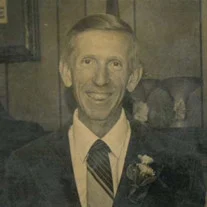 Robert Jackson Witherspoon, 85, of Mooresville, N.C., went to heaven on March 31, 2022. Robert, better known as Bobby, was born on March 15, 1937 in Iredell County, N.C., to the late Floyd and Hazel Jackson Witherspoon.
Bobby married the love of his life, Frances, on June 15, 1961. They were married for 48 years before her passing in 2009. Bobby owned and operated Witherspoon Cleaning Service for over 30 years before retiring. Loving God and serving Him faithfully was very important to Bobby. He was a member and deacon of Whitman Park Baptist Church since 1961. Bobby was deeply loved by his family and will be greatly missed.
In addition to his parents, Bobby was preceded in death by his wife, Frances Pitts Witherspoon; son, Quinn Witherspoon; daughter, Seleathia Witherspoon; great-granddaughter, Haddi Davis; brothers, Bill and Tommy Witherspoon; and sisters, Maemalee and Irene Huffman.
He is survived by his children, Sabrina W. Barnes (Marion) and Drey Witherspoon (Crista); grandchildren, Chase, Logan and Caleb Witherspoon, Joshua Davis (Julie), Daniel Davis (Kelly), Thomas Davis, Katherine Witherspoon, and Seth and Sydney Witherspoon; great-grandchildren, Jacob, Kaylee, Noah, Gracen, Kaleb and Hannah; brothers, Floyd and Ray Witherspoon; and "adopted" daughter, Tammy Hanson.
A visitation will be held at Whitman Park Baptist Church, Mooresville, N.C., from 2 to 3:30 p.m. on Sunday, April 3, 2022. The funeral will be held in the same location at 3:30 p.m. with Rev. Jesse Clubb and Rev. Allen Reed officiating. Burial will immediately follow at Glenwood Memorial Park, Mooresville, N.C.
In lieu of flowers, memorial contributions can be made to Whitman Park Baptist Church, P.O. Box 1215, Mooresville, NC 28115.
Cavin-Cook Funeral Home & Crematory, Mooresville, is serving the Witherspoon family. Condolences may be made to the family at www.cavin-cook.com.