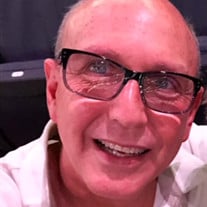 Robert Posey, who was known as "Handsome Bob," passed on February 28, 2022, at the age of 59 at Lake Norman Regional Medical Center surrounded by family and friends. Robert died on his birthday and would have considered this a favor to his wife as she could celebrate and mourn all in one day.
He was born on February 28, 1963, in St. Louis, Mo., to Robert Anthony and Karla Posey, who preceded him in death and have been waiting on him to discuss some of his early life decisions.
He is survived by his wife Dale, whom he lovingly referred to as Mama Bear; his daughter, Cynara Johnston; granddaughters, Jade and Ezzie; sisters Trish (Speedy) and Linda; brother, Thomas (Jennifer); niece, Dana; and nephew, Ian, all of whom still claim him as family and referred to him as "Big Bear," "Dad," "Opa," "Brother," "Uncle" and other descriptive references from time to time.
Robert was the owner of a local business, Fitness on Demand, and personal trainer. He was loved by many in the community and not-so-loved by many others. The latter part of this life was spent helping people accomplish their goals and reminding them of when they had too much cake or wine. He was the guy who always knew a guy when you needed something, helped make connections among friends and was always willing to lend a hand.
His chaotic early years will be remembered as the bad choices that made good stories and memories. His latter years will be remembered as time well spent with family and friends out on the boat, dining at local restaurants and bringing friends together. Every day was lived to the fullest and as Frank Sinatra said it best, "He lived life his own way."
A Celebration of Life will be held at 3 p.m. in the Heritage House at Cavin-Cook Funeral Home, Mooresville, with Eddie Karriker officiating. The family will receive friends from 2 to 3 p.m. prior to the service at the Heritage House. In lieu of flowers, memorials may be made to friendsofthesmokies.org.
Cavin-Cook Funeral Home, Mooresville, is serving the family of Mr. Posey. Condolences may be made to the family at www.cavin-cook.com.