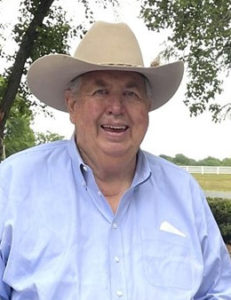 Robert Wayne "Bob" Stamey, 76, of Statesville, N.C., died Monday, August 22, 2022, in an accident on his family's farm.
Bob Stamey was born in Raleigh at St. Mary's Hospital, the first of five children to the late Howard Murray Stamey and the late Ida Frances James Stamey. But the geography of his life would come to be the land just off of Interstate 40 in Statesville where he grew up, known as Stamey Farms. Bob Stamey nurtured the family dairy farm begun by his father into an international cattle trading business, and along with his wife, established a well-loved homeplace for generations to gather.
Bob Stamey graduated from Celeste Henkel High School in 1964, where he was a standout in football, basketball and baseball, and received a basketball scholarship to Brevard College. He was involved in 4-H, and was an excellent dairy cattle judge, securing the title of State Champion and National Runner-up.
He began the defining relationship of his life at Mitchell College. Bob Stamey married Pamela "Pam" Purnell Priest on June 15, 1968, in Flat Rock and for the next 54 years they would form a partnership of unending love, sustaining not only themselves, but all who loved them, particularly their three children and their families. At home, Bob inspired his family to think big, and taught younger generations how to turn thoughts into actions. Bob and Pam had the vision to create a place where people truly felt at home, showing thousands of guests their unparalleled version of grace and hospitality.
In 1974, Bob Stamey took the helm of Stamey Farms and within a year exported its first cattle: a planeload to Hungary. Over the next 47 years, he would export cattle to Vietnam, Turkey, Russia, Kazakhstan, Egypt, Qatar, Morocco, Mexico, Barbados and many others, making Stamey Cattle Company one of the country's leading cattle exporters. His innate enthusiasm for life and people made him a natural for international business, and he developed wide recognition and respect from his peers for his forthright and even-keeled dealings across the globe. The largest livestock operator in Turkey insisted, "The world of agriculture needs more Bob Stameys." Bob Stamey always enjoyed the people with whom he crossed paths, including sustaining a decades-long friendship with dear clients in Ecuador.
Lovingly known as "Papa," Bob was father to three, grandfather to eight, uncle to 12 and great uncle to 21. He understood the values of family, fellowship, laughter and hope. His best and happiest times were spent watching his children and grandchildren pursue their passions, fall in love, and grow their own families — watching the vision he and Pam worked tirelessly to achieve come to fruition. Bob thoroughly celebrated life, and was always planning the next trip, event or gathering. He adored his horses, especially Joe.
Bob Stamey believed in the power of faith and community and was a longtime member of Broad Street United Methodist Church, where he served as finance chair. He also was a member of the Statesville Planning Board and named as an Iredell County Farmer of the Year.
Bob Stamey is survived by his wife Pam Priest Stamey; children David James Stamey and his wife Devon Oliver Stamey of Statesville; Robb Shaw Stamey and his wife Kelly Holzmuller Stamey of Cornelius; Margaret "Meg" Stamey French and her husband Brett Walker French of Statesville and Miami; and grandchildren Max James and Oliver Graham Stamey of Statesville; Robert Holt, Catherine Ann, Megan Elizabeth, and Chase David Stamey of Cornelius; and Ashley Slay and Elizabeth Stamey French of Statesville and Miami.
He is survived by his brother Charles "Charlie" Howard Stamey and his wife Christine "Chris" Troutman Stamey of Union Grove; his sisters Sue Stamey Stewart Wells and her husband Richard L. Wells of Greensboro; Margaret Stamey Payne and her husband, the Honorable Ronald K. Payne of Asheville; and Annie Stamey Palles of Raleigh. He is also survived by his sister-in-law Mindy Priest Staton and her husband Richard Lee Staton.
In addition to his parents, Mr. Stamey was preceded in death by his brother-in-law, William "Bill" Stewart of Greensboro, and his sister-in-law Candy Rogers Priest of Hendersonville.
Following a burial service with the immediate family, a memorial service for Bob Stamey will be held at 11 a.m. Saturday, August 27, 2022, at Broad Street United Methodist Church, 315 W. Broad Street, Statesville, NC 28677. The family requests that gift be made to Mitchell Community College, 500 W. Broad Street, Statesville, NC 28677 or to Broad Street United Methodist Church, ℅ Bob Stamey Memorial, 315 W. Broad Street, Statesville, NC 28677. Online condolences may be made to the Stamey family at www.troutmanfuneralhome.com.
Troutman Funeral Home is serving the Stamey family.