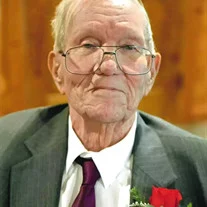 Robert William Benell, better known as "Ted" or "Po", 91, of Davidson, N.C., passed away on Tuesday, August 2, 2022, at his home surrounded by his family. He was born on September 17, 1930, in Carlstadt, N.J., to the late George and Ann Dermody Benell.
Mr. Benell was a Sergeant in the U.S. Marines having served in Korea. He was a retired data processing manager for Sunox. He was a parishioner of St. Therese Catholic Church in Mooresville, where he was also an active Knights of Columbus member and was the longest tenured Knight of Chapter 7406. Ted devoted many years of his life volunteering with Cabarrus County Group Homes, an organization near and dear to his heart. Above all, "Po" was devoted to his family and grandchildren.
In addition to his parents, he was preceded in death by his wife, Nancy Skipper Benell; daughter, Sherry Ann Benell Hill; and young siblings, Kenny and Ruthie.
He is survived by grandson, Robert Hill Jr. and wife Melinda; great grandchildren, Sara Roux and husband Robert, Cade Hill, and Lily Hill; son-in-law, Robert Glenn Hill Sr.; brother, George Benell; and Ted's sweetie, Mary Wittmann.
The family will receive friends on Thursday, August 4, from 6 to 8 p.m. at Cavin-Cook Funeral Home. A Mass will be held at 11 a.m. on Friday, August 5, at St. Therese Catholic Church, 217 Brawley School Road, Mooresville, NC 28117.
Memorials may be made to Cabarrus County Group Home, 288 Aviation Drive, China Grove, NC 28023 or St. Therese Catholic Church, 217 Brawley School Road, Mooresville, NC 28117.
Cavin-Cook Funeral Home & Crematory, Mooresville, is serving the Benell family. Condolences may be made to the family at www.cavin-cook.com.