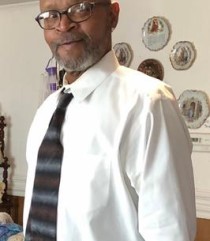 Mr. Rodrick "Tim" Parker was born in Iredell County, N.C., on May 15, 1961, to the late Roy and Margaret Morrison Parker. Tim peacefully departed this life on February 1, 2022, at the Gordon Hospice House in Statesville, N.C.
Tim was a graduate of North Iredell High School. His career was in manufacturing. His last place of employment was at Betco in Statesville. He was a lifetime member of Freedom Presbyterian Church.
In addition to his loving parents, Tim was preceded in death by his siblings, Weldon (Barbara) Parker, Wilma (Ronald) Campbell, and Reginald "Reg" Parker, whom he loved dearly; a niece, Yolanda Allison; and a sister-in-law, Constance "Conkie" Parker.
He leaves to cherish the memories of his life a daughter; Ashley Mayberry of Statesville; a sister, Renee Moore of Statesville; one nephew, Shelton (Hope) Moore of Statesville; three nieces, Sonya Simpson of Morristown, Tenn., and Lisa Parker and Dena (Calvin) Thomas of Cheraw, S.C.; great nieces and nephews, Darius Sharpe, Jonah Simpson, Micah Simpson, Nebanye Moore, Cameron Summers and Alexis Allison; a brother-in-law, Ronald Campbell; and a sister-in-law, Barbara Parker of Cheraw, S.C. ; aunts, Beatrice Moten of Statesville and Mary Frances Jackson of Sacramento, Calif.; special cousins, Jerry Morrison, Eveadean (Dr. Deland) Myers, Anita Linney, and Leon (Marybelle) Parker; and a host of other cousins and friends.
Visitation is scheduled for Monday, February 7, 2022, from 12:30 to 1 p.m. at Freedom Presbyterian Church, Highway 21 North, Statesville, with a service to follow 1 p.m.
Rutledge and Bigham Funeral Home is serving the family.