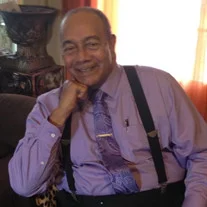 Rolland A. "Jonesy" Jones, 91, of Mooresville, N.C., passed away on Monday, March 14, 2022. He was born in 1930 to Amanda and Robert Jones. He had two brothers, Stanley and Harold Jones.
Rolland grew up enjoying baseball and was a pitcher in The Negro League. He served in the Air Force as an instructor. He retired as a supervisor at EJ Brooks Company in Newark, N.J.
Rolland shared over 60 years of his life with his beloved wife Shirley. In 1971 they were baptized as Jehovah's Witnesses and spent their lives in faithful service. His life was filled with showing love and kindness. He opened his heart and home, sharing his wisdom, and comforting and encouraging all those who were blessed to know him. He was "Dad" to hundreds of people in various congregations and in the neighborhoods. Those he mentored stayed in touch throughout decades, often calling him as adults to ask his advice. He would use God's word, the Bible, to help and inspire.
Rolland's sense of humor and play still brings joy to the hearts of many. He delighted generations of children with his Donald Duck impression. He could whistle and sounded just like a police whistle. His beautiful tenor singing voice would fill the Kingdom Hall, encouraging us all to sing. He knew many secular songs. You could say a word or phrase and Dad would jump in with a song that matched. Some of his hobbies included electronics and photography. He enjoyed snapping pictures while people where not looking, surprising them after he developed them. In addition, he loved to dance.
His family includes but is not limited to his sister, (Shirley's sister) Wilma Johnson; children, Rodney Jones, Linda Jones, Beverley Pollard, Janice Baker, Lluana Wandy Jones, and Deron Jones; grandchildren and great grandchildren, Maurice Jones, Jasmine Pollard, Sakira Baker, Ryan Jones, Imani Baker, Azia Kennedy, Connor Jones, Madelyn Jones, Quinton Alexander, and Amber Jones. Included as his children are Jeanine Galloway, Stephanie Wallace, Carla Chickie Wright, Mary and Lloyd McPherson, Melvin and Winki George, Clarence and Brunilda Bernie Jordan; siblings, Sandy Claiborne, Hardy and Dorothy Gray, John and Joan Cherry; his loving in-laws, Angelique Jones, Angela Jones, Sheremore and Evans Alexander, and Harry Baker. There are so many family and friends who are not listed. Please know that you are loved and appreciated.
The family will receive friends on Saturday, March 19, from 1 to 2 p.m. with a service following at 2 p.m. at Cavin-Cook Funeral Home Chapel. Burial will follow the service at Glenwood Memorial Park.
Cavin-Cook Funeral Home & Crematory, Mooresville, is serving the Jones family. Condolences may be made to the family at www.cavin-cook.com.