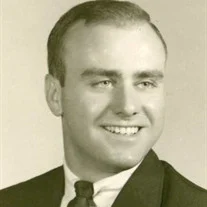 Ronald Anthony Chislaghi, 82, of Mooresville, N.C., passed away on Saturday, March 12, 2022, at Brookdale Peachtree of Statesville. Born May 3, 1939, in Monongahela, Pa., he was a son of the late Hugo and Irma Bercini Chislaghi.
Mr. Chislaghi was a graduate of Slippery Rock University, Slippery Rock, Pa., and earned his master's degree from Appalachian State University, Boone, N.C. He was a retired teacher, having taught sixth grade math and science for 30 years. Mr. Chislaghi enjoyed fishing, hiking, camping, and gardening. He was a U.S. Army veteran.
He was a N.C. Certified Emergency Medical Technician who volunteered with the American Red Cross and North Mecklenburg Rescue Squad. He was also a great dog lover and was never without a pet.
Mr. Chislaghi was preceded in death by a daughter, Anita Marie Chislaghi Nantz McRacken (Mark).
He is survived by his wife, Jean Bowers Chislaghi, whom he married December 17, 1966; daughters, Myra Lynn Chislaghi Falletta (Tony) and Rhonda Jean Chislaghi; brother, Donald Chislaghi (Rita); grandson, Joshua Hunter Nantz; step-grandchildren, Drew, Molly and Caroline McRacken and Nino Falletta; nieces and nephews, Matthew Bowers, Brian Bowers, Mark Bowers (Christine), Christine Bowers Anna (Mark), Jennifer Chislaghi, and Cathy Chislaghi Roberts (Jason); and several great nieces and nephews, including Jonah and Megan Roberts.
A graveside service will be held at 9 a.m. on Friday, March 18, 2022, at Salisbury National Cemetery with Rev. Dave Rockness officiating. The family will receive friends from 6 to 8 p.m. on Wednesday, March 16, 2022, at Cavin-Cook Funeral Home, Mooresville.
In lieu of flowers, memorials may be made to Iredell County Hospice and Palliative Care, 2347 Simonton Road, Statesville, NC 28625.
Cavin-Cook Funeral Home, Mooresville, is serving the family of Mr. Chislaghi. Condolences may be made to the family at www.cavin-cook.com.