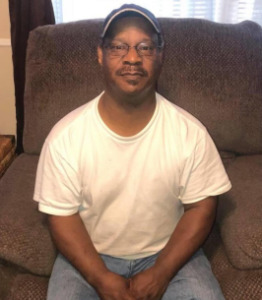 Ronnie Eugene Wellman Sr., 68, passed away on Sunday, November 27, 2022, at Catawba Valley Medical Center, in Hickory, N.C. He was born on May 30, 1954, in Iredell County, N.C., and was the son of Ruby Mae Keaton Wellman and the late Lonnie Wellman.
Ronnie attended North Iredell High School and graduated in 1972. He was a member of Word of Life Ministries in Statesville, N.C., and he worked at a manufacturing company as a machine operator. His hobbies were fishing and cooking. Ronnie will truly be missed.
Ronnie leaves to cherish the memories of his life, in addition to his mother, a wife, Kathy Roseboro Wellman; siblings, Barbara W. Alexander, Carl Wellman, Keith (Nancy) Wellman, Patricia Scott, Charles (Dee) Wellman, Marlin Sharpe of Kentucky, Marsha (Perry) Brown of Salisbury, Cheryl (Reggie) Clark of Georgia, Reverend Kevin (Mary) Little, of Woodleaf, Jeff Little of Mooresville, Reverend Kevin (Mary) Little of Troutman, Todd Summers of Statesville, and Tammy (Wesley) Poplin of Stony Point; godsons, Bronzie Ellison, Chaunsey Dalton, and Phoenix McGee; children, Garrick (Kisha) Roseboro, Le'Andra (Tejuen) Wellman, and Ronnie (LaVonna) Wellman-Cherry, all of Statesville, Nakia (Tobey) Jones, Tysasha (Christian) Wellman-Parker, and Kierston Wellman, all of Charlotte; grandchildren, Anikkia (Latawr) Sloan, Keshara (Todd Jr.) Stughill, Ashley Roseboro, Kanye Roseboro, Kamryn Roseboro, Kingsley Roseboro, Karayan Roseboro, Emonte Jones, De'Shawndra Jones, Khamonni Wellman, Raeanna Wellman, Breyonna Reid, Perius Reid, Davonte Reid, Cambria Reid, Jhatavius (Jaquaia) Wellman, Hydeia Wellman, Yakir Parker, and Kieran Parker; great grand children, Chattney Harris, Maddex Sloan, Justice, Toni, and Trace Sturghill, Brayden Woods Wellman, Jaziyah and Jahmir Wellman, Prajhas Reid, Kassidy Reid, Davien Reid, Juci Reid, Ryice Boyd, London Roseboro, La'Meah Thorpe, and Dazien Thorpe; special friends, John Brown and Steven Hunter; a host of other uncles, aunts, cousins, church members, other relatives, and friends.
A Celebration of Life will be held on Sunday, December 4, 2022, at Rutledge and Bigham Mortuary, Statesville, N.C., at 2 p.m. Visitation will be held from 1 to 2 p.m. Bishop Al Jamel Stevens will do the eulogy.
Visit the book of memories for Ronnie Eugene Wellman Sr. at www.rutledgeandbigham.com.
Rutledge and Bigham Funeral Home is serving the Wellman family.