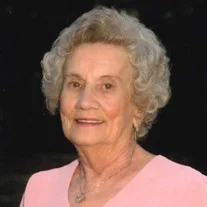 Sarah Rebecca "Beckie" Helms Starnes, 88, of Mooresville, N.C., passed away on Tuesday, December 20, 2022, at her home. She was born October 16, 1934, in Monroe, N.C., to the late Clement Leonard Helms and Minnie Belle Thompson Helms.
In addition to her parents, she was preceded in death by her husband, M. H. Starnes; daughter, Marian Godfrey; and several brothers and sisters.
Beckie graduated from Indian Trail High School in 1952. She worked for many years as a bookkeeper until she and her husband, M. H. Starnes, opened a plumbing company. They worked together for many years in the plumbing business until his death in 1992. She was very active in the Order of the Eastern Star. She enjoyed working in her yard and loved flowers of all kinds. She liked "rescuing plants" and nursing them back to life. She had a passion for birds, especially Cardinals. She referred to herself as a "tough old bird" and that she was, but she loved her family and extended family with all her heart and soul!
Beckie is survived by a daughter, Julie Horton and husband Jim; grandson, Adam Hilton and his wife LaDonna; and great-granddaughter, Sarah Reece Hilton.
A funeral service will be held on Friday, December 23, at 2 p.m. in the Chapel of Cavin-Cook Funeral Home with Rev. Mark Pitts officiating.
In lieu of flowers, memorials may be made to Shriners Hospital for Children, 604 Doug Mayes Place, Charlotte, NC 28262.
Cavin-Cook Funeral Home and Crematory, Mooresville, is serving the Starnes family. Condolences may be sent to the family at www.cavin-cook.com.