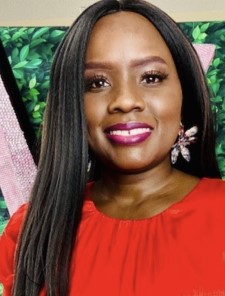 Shanice Tamara Johnson, 33, a native of Boiling Springs, S.C., recently of Brockton, Mass., passed away peacefully surrounded by her family on March 31, 2022, after a courageous battle with breast cancer.
Shanice attended Statesville High School in Statesville, N.C., where she graduated with the Class of 2006. She was well educated, earning an undergraduate degree from Winston-Salem State University and a master's degree from North Carolina A&T State University. She was an educator and taught eighth-grade Middle School Mathematics for several years after college in addition to offering tutoring services through her self-created business "Shanice the Geek." After teaching for two years, Shanice decided to pursue a master's degree in Applied Mathematics. Upon receiving her degree, she went into the finance field as a Financial Data Analyst at American Credit Acceptance in South Carolina.
During these years, Shanice became interested in self-care and fitness. She became a vegetarian and made exercise a daily routine in her life. She was very dedicated to learning more about holistic care and pushed herself fitness markers to perfection. As she challenged her discipline, she entered into several ANBF Bikini competitions. Shanice quickly saw the rewards for her hard work by receiving 1st in the 2019 ANBF Emerald City Classic Bikini Open & Novice categories. She received additional accolades in any competition she entered.
Shanice never allowed her illness to interfere with living life to the fullest as she accomplished so much in such a short time. Even during times of struggle, she remained a staunch advocate for others, especially women of color navigating breast cancer battles. She was the host of "Love, Her will" podcast where she openly discussed the racial disparities in healthcare and offered insightful words of power and encouragement. Her love and light are part of the great legacy she has left behind.
Shanice was the cherished daughter of Sabina C. (Kimbrough) Johnson-McClelland and her husband Donald McClelland of Newport News, Va., and Rev. Alfred L. Johnson Sr. and his wife Tina Johnson of Ridgeland, Miss.; beloved sister of Alfred L. Johnson Jr., Evana Johnson, and Damon Johnson; loving aunt of Zenyla Johnson-Spaugh and Samala Johnson-Kearney; and Godmother of Allie Mercurius and Marlee Mercurius. Shanice also leaves her aunt Tarma Johnson, cousin Adebayo Aderinkomi, a host of cousins and very close friends, including her Alpha Kapa Alpha Sorority Inc. sister family.
A Celebration of Life will be held Friday, April 8, 2022, at 12 noon at Waitt Funeral Home, 850 North Main Street, Brockton, MA 02301 with visitation in the funeral home beginning at 11 a.m. Private cremation to follow. Waitt Funeral Home in Brockton, Mass., is serving the family of Shanice T. Johnson
A Memorial Service will be held in Statesville, N.C., at a later date.