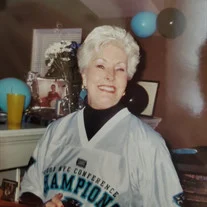 Susan McCrea Galyon moved from her temporary residence in Greensboro, N.C., on June 4, 2022, laying hold of the promises of her Savior Jesus Christ. In John 11:25-26 and 14:2, she is now living in her Father's heavenly home, in the presence of our one and only perfect Love.
Susan (Sue) was preceded into the arms of her Savior by her three previous husbands, James Wagner, Bill Martin, and Pat Galyon; her parents Tom and Bessie McCrea; sisters Mary and Jane; and brother John.
She leaves behind but is confident in a glorious reunion with her many friends and family; brothers, Thomas, James, Patrick; and her sister Barbara; her adoring children, Jamie (Julie), Shaun (Kathy), Krystal (Gus), and Kelly (Jeff); her precious grandchildren, Brianne, Cory (Chelsea), Brittany Nikole (Tanner), Ethan, Mason, Samantha, and Addison (Kevin); her great-grandchildren, Connor, Peyton, and Avalon; and twenty-one much-loved nieces and nephews.
Sue was and is a loyal friend, a tender-hearted sibling, and a fiercely devoted mother who gave selflessly of her time and resources to those she loved. She will be greatly missed and fondly remembered until each, in their own time, depart to the place where "God will wipe away all tears from their eyes; and there shall be no more death, neither sorrow, nor crying, neither shall there be any more pain: for the former things have passed away." (Rev 21:4)
A celebration of life will be held at The Heritage House on the campus of Cavin-Cook Funeral Home in Mooresville, N.C., on July 9, at 11 a.m.
In lieu of flowers, donations made be made in Susan's name to either ASPCA (aspca.org) or Hospice of The Piedmont (hospiceofthepiedmont.org).