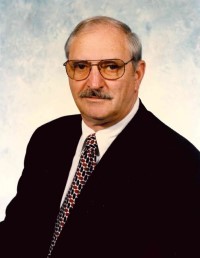 Thomas Harris Bass, 82, passed away peacefully in his sleep surrounded by his loving family on Sunday, February 13, 2022.
Thomas was born on November 28,1939, in Iredell County, N.C., to the late Grover H. Bass and Hazel Murdock Bass. He is survived by his wife of 64 years, Mary Jane Smith Bass, and children, Paula Bass Reddick, (Keith), and Dennis Eugene Bass; and grandchildren, Christina Bass and Keith Reddick Jr. He is also survived by a sister, Linda Dingler, and many nieces and nephews and his sisters-in-law, Adele Schlosser, Martha Miller and Josephine Loughner. His little four-legged friend, Casper, who he dearly missed, is anxiously waiting for him for a walk in the clouds.
Thomas was educated in Iredell County schools and was of the Lutheran faith. He was a hardworking man and at a young age he had a paper route — and at times he had two. On February 1, 1958, he married Mary Jane Smith. They had just celebrated their 64th wedding anniversary. He decided to join the Army in 1962. He knew he would be drafted sooner than later, and he wanted to get on with his life. He served three years and did two tours in Greenland at the Polar Research and development center. He was discharged at Fort Hauchuca, Ariz., in 1965. He came back home and wasted no time getting a job. He went out looking and came back with four choices; he decided on Bruning & Federle Mfg. He worked hard and after several years of traveling all over the country he managed to be the president of the company. He established a satellite company in Emporia, Va., and also purchased Carolina Blower in Greensboro, N.C., at the time. He retired in 2008. Thomas always took care of his family, making sure they had what they needed. He was of a quiet nature, most of the time. He and Mary enjoyed living on the lake and took several cruises and road trips over the years until he wasn't able to get out and enjoy it. He will be truly missed. Now he's reunited with family and friends, and little Casper.
Memorial service will be held 2 p.m. at Troutman Funeral Home on Saturday, February 19, with visitation to be held one hour prior from 1 to 2 p.m. Burial will follow at St. Michaels Cemetery with full military honors.
The family would like to thank Kindred Care, EMS, firemen, Hospice, friends and neighbors. In lieu of flowers, memorials may be made to Iredell County Animal Services, 430 Bristol Drive, Statesville, NC 28677. Online condolences can be made to the family at www.troutmanfuneralhome.com.
Troutman Funeral Home is serving the family.