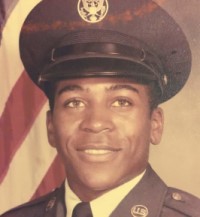 Mr. Timothy Culbreath Sr. was born in Lubbuck, Texas, on June 22, 1961, and was the son of the late Gonzlee Culbreath Jr. and the Juneava Arnold Culbreath. He departed this life unexpectedly on Monday, April 18, 2022.
He was preceded in death by his father, Gonzlee Culbreath Jr. (Ret. USAF), and his mother, Juneava Arnold Culbreath.
Timothy served as an E3 Tech Sergeant in the US Air Force and was awarded the marksmanship pin. After serving his country, he worked as a cook in the restaurant industry. He loved his family and will truly be missed.
He leaves to cherish the memory of his life his wife, Shanti Hayes Culbreath; one daughter, Jemima Culbreath of Statesville; one son, Timothy (Daniele) Culbreath Jr.; three stepchildren, Samara Hayes, Quentrell Stevenson, and Isaiah Stevenson; four grandchildren, TaQwan Culbreath, Jacob Culbreath, Emma Culbreath, and DeAndre Culbreath; seven brothers, Derrick Arnold of North Carolina, Gonzlee (Rosetta) Culbreath I of North Carolina, Alan R. (Victoria) Culbreath of New York, Leonard N. (Sharon) Culbreath of Maryland, Richard A. (Viola) Culbreath Sr. of Texas, George C. Culbreath of North Carolina, and Daniel L. (Contessa) Culbreath of North Carolina; and a host of cousins, other relatives, and friends.
A Celebration of Life Services will be conducted Wednesday, May 4, 2022, at 4 p.m. at Rutledge and Bigham Funeral Home. Members of the family will receive friends at the funeral home from 3 until 4 p.m.
Online condolences may be made at www.rutledgeandbigham.com.
Rutledge and Bigham Funeral Home is serving the family.