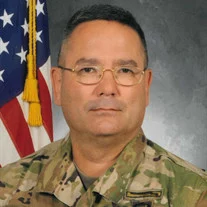 Timothy Domke, 57, of Mooresville, N.C., passed away on Monday, July 18, 2022. He was born on December 21, 1964, in Jacksonville, N.C., to the late Walter and Hatsue Nakamura Domke.
Timothy was a veteran who served 33 years in the U.S. Army and retired as a colonel in November 2017. He served in Korea and Iraq and was awarded the Global War on Terrorism Service Medal, the Defense Service Medal, and the Iraq Campaign Medal with Campaign Star. Timothy also attended The University of Texas at Austin, where he graduated in 2016 from the U.S. Army War College Fellowship.
Ret. Col. Timothy Domke was very dedicated to his fellow soldiers and served our country with honor and integrity.
Timothy was a devoted father who loved his sons very much. He never missed an opportunity to be on the sidelines of a soccer game for Benjamin or in an audience with pride for Jacob. They called themselves the 3 Musketeers and made many happy memories together.
He is survived by his two sons, Benjamin and Jacob Domke, and their mother, Kristen DiPietro; brother, Tom Domke (Claudia); nieces, Lauren Domke Brady and Samara Domke, and nephew, Trevor Domke.
He will be laid to rest at Salisbury National Cemetery with Honors at a later date.
Memorials may be made to the Wounded Warriors Project, P.O. Box 758516, Topeka, KS 66675.
Cavin-Cook Funeral Home & Crematory, Mooresville, is serving the family. Condolences may be made to the family at www.cavin-cook.com.