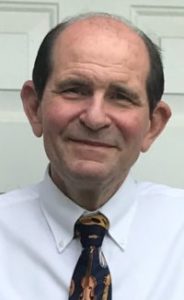 Tony Lynn Hoover was welcomed to his Heavenly home on Sunday, February 27, 2022. What a wonderful day to meet Jesus face-to-face. Tony was born on May 8, 1954, to James Gray and Sarah Collins Hoover, who preceded him in death. He was born again at age 8 at Ostwalt Baptist Church, his childhood church, when he accepted Jesus as his Lord and Savior.
Tony is survived by his wife, Mary Jane Underwood Hoover; and children, Andy Hoover of Bozeman, Mont., and Kelli Eggers (Tommy) of Granite Falls, N.C. He is also survived by grandchildren, Justin and Tyler Eggers and Autumn Hoover. Also surviving are his brother, Dennis Hoover (Joy), and sister, Becky Ladd, as well as several nieces and nephews, other family members and a host of musical friends he played and sang with over the years.
Tony graduated from South Iredell High School in 1972 and attended Mitchell Community College. He worked in food sales and service beginning in 1973 with Bost Bakery, Murray Distribution, Haddon House and United Natural Foods, from where he retired in May 2019.
He spent much of his time singing and playing mandolin and derived pleasure from playing music with other musicians around Statesville, Troutman and surrounding areas. He loved being a cheerleader for upcoming, talented musicians.
Tony was an active member of Troutman Baptist Church, where he served as Deacon, Sunday School teacher, music director and choir member since 1975. A celebration of his life will be held at Troutman Baptist Church, Sunday, March 6, 2022, at 3 p.m. The family will receive friends following the service.
In lieu of flowers, memorials to honor Tony's life may be made to the Food Pantry or Toy Store for Jesus, ministries of the South Yadkin Baptist Association or the charity of the donor's choice. The mailing address for SYBA is PO Box 5249, Statesville, NC 28687.
The family would like to express their deepest appreciation for all who have walked the last months of Tony's life with them and for the many notes of encouragements and acts of kindness shown. Online condolences may be made to the family at www.troutmanfuneralhome.com.
Troutman Funeral Home is serving the family.