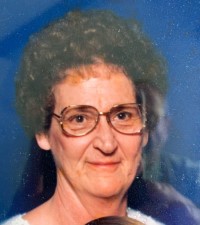 Virginia R. Christopher, 95, of Statesville, N.C., entered her heavenly home on Wednesday, April 27, 2022, during her time at Maple Leaf Health Care in Iredell County.
Virginia was born on February 18, 1927, in Mercer County, W.Va. In addition to her parents, she was preceded in death by her husband, Ray Monroe Christopher; several siblings; and one granddaughter, Jamie Christopher.
Virginia worked in the textile industry for Beauty Maid Mills as a supervisor. She worked in the industry for 20-plus years. Virginia was a Christian woman and attended church at Monticello Baptist Church in Statesville.
Virginia is survived by a son, Ray Christopher of Statesville; one daughter, Clara Connelly; two grandchildren, Jonathan Christopher of Concord and Erin Paquin; and one great granddaughter, Alivia Christopher.
There are no services scheduled at this time.
Reavis Funeral Home of Statesville is honored to serve the family.