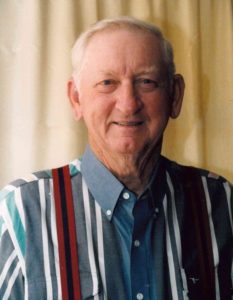 William "Ellis" Dagenhart was born on a bright spring day on May 18, 1928, the fourth child of Ollie Stikeleather Dagenhart and Clyde Sylvester Dagenhart Sr. He attended Celeste Henkel School with his seven siblings. He did not go to war with his older brothers, Coleman and Clyde Jr., but stayed home to help around the farm and with the younger children.
Ellis worked in several jobs over the years, including Kewanee Technical, but found his calling as a contractor, building many homes in the area. He was so averse to waste that he planned the materials list and house plans so that there was less than a wheelbarrow full of waste! He thought that caulk was the sign of a poor carpenter and that the fit should be so exact that no caulk was ever needed!
He was married on September 5, 1948, to Avin Leckie Dagenhart, which means they were together for almost 74 years. They lived in a house he and his Daddy built on the family farm on Dagenhart Farm Road for almost all of that time. They have one son, Michael Ray Dagenhart, who is married to Teresa Long Dagenhart, and one granddaughter, Michelle Dagenhart. They also have two little great-grandsons, Ashton Michael Hurt and Jaxon Alexander Hurt. They all live in Haymarket, Va.
Ellis died at age 93 on Friday, January 28, 2022, after period of declining health and a final fatal bout of Covid-19. He passed peacefully at the Gordon Hospice House in Statesville surrounded by family. He is survived by his wife, son, daughter-in-law, granddaughter, and great-grandsons. He is also survived by his sister, Kay Dagenhart Edwards, and his brother, Wayne Dagenhart, and numerous nieces and nephews and their children.
Preceding him in death were his parents and five of the eight siblings and their spouses, Coleman Dagenhart and Henny Pierce Dagenhart, Dorothy Dagenhart Waugh and Ronald Waugh, Clyde Dagenhart Jr. and Marie Gentle Dagenhart, Betty Dagenhart Josey and Roy Josey, and Billy Dagenhart. Also preceding him in death were Kay's husband, Arnold Edwards, Wayne's wife Bernice Beckham Dagenhart, niece Sherry Mason, and nephew, Tony Dagenhart.
Ellis will be remembered at a graveside service on Saturday, February 5, 2022, at 2 p.m. at Oakwood Cemetery in Statesville presided by longtime friend, the Reverend Earl Linderman. Instead of flowers, the family asks that contributions be made to the West Iredell Ruritan Club, where Ellis was a member for over 25 years. The West Iredell Ruritans work year-round to assist with school supplies, clothing, and other needs in all the schools in West Iredell. That address is: West Iredell Ruritan Club, c/o Frank Guy, 290 Guy Farm Lane, Statesville, NC, 28625. The family also asks that masks be worn, and that social distancing be observed during the graveside service.
Online condolences can be made to the family at www.troutmanfuneralhome.com.
Troutman Funeral Home is serving the family.