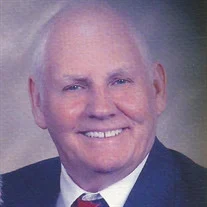 William Eugene Freeland, 89, of Statesville, N.C., passed away on Sunday, June 12, 2022, at Maple Leaf Health Care. Born on October 8, 1932, in Statesville, he was the son of Harvey Lee and Gaynell Freeland. Mr. Freeland was a graduate of Cool Springs High School and on August 28, 1951, he married Margie Jean Vinson.
In 1954, he was drafted into the United States Army and was stationed in Korea. Upon return, Bill attended N.C. State College and began his career as a draftsman with L. E. Wooten Company, where he also learned electrical engineering. Among his many projects for Wooten, he spoke often about his role as a project engineer on the building of Carter-Finley stadium in Raleigh, N.C.
Attending N.C. State meant moving to Raleigh, where he and his wife made a home and lifelong friends. Their three sons were born in Raleigh as well.
Bill had a lengthy career with CRS Sirrine and would work throughout the United States.
In the mid 1980s, land was purchased at Cascade Mountain Resort in Fancy Gap, Va., and a log home was built by the family with help from their many friends. The home served as holiday retreat in the mountains for many years and later became Bill and Jean's full-time residence after retirement.
Bill didn't stop working for others after moving to Virginia. He overlooked the Cascade Mountain freshwater system, which served nearly 100 homes while also serving as a volunteer fireman for Cana VFD in Cana, Va. He and his friend, Floyd Jones, did handyman jobs for friends and people on the mountain.
In addition to his parents, he was preceded in death by his wife, Margie Jean Vinson Freeland; his son, Dennis Eugene Freeland; and his brother, James Edwin Freeland.
Those left to cherish his memory include his sons, Robert Edwin Freeland and his wife Jodie of New Bern, N.C., and William Lee Freeland and his wife Sandra of Riehen, Switzerland; grandchildren, Mia Elizabeth of Raleigh, N.C., Kayla Jo of Wilmington, N.C., Jasmine Sophia of Riehen, Switzerland, and Alina Zara of Riehen, Switzerland.
A Celebration of his life will be held at 2 p.m. on Saturday, July 9, 2022, in the Chapel of Nicholson Funeral Home. The family will receive friends one hour prior to the service beginning at 1 p.m. at Nicholson Funeral Home. Burial with Military Honors will be held in Bethesda Presbyterian Church Cemetery.
Online condolences may be made to the family at www.nicholsonfunerals.com.
Nicholson Funeral Home is serving the family.