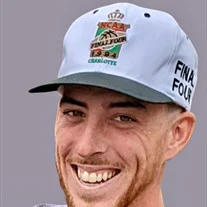 William "Will" Griffin Carney, 25, of Mooresville, N.C., passed away on Wednesday, September 28, 2022.
He was born on May 29, 1997 in Charlotte, N.C., to Don Carney and Jan Griffin Carney. He was a 2015 graduate of Lake Norman High School and was employed with Piedmont Pipe in Denver, N.C. Will was a fun-loving, high-spirited young man who enjoyed baseball, water sports, and being outdoors. He loved his family and friends.
He was preceded in death by maternal grandmother, Patsy Griffin; paternal grandparents, Earl Carney, Alice Carney, Kay Kerr, and Albert Kerr; and cousin, Taite Edwards.
In addition to his parents, he is survived by his stepmother, Norma S. Carney; brothers, Wes Carney and Joe Carney (Haley); sisters, Jennifer Kirchner (Gabriel) and Sarah Carney; nieces, Caroline, Caitlyn, and Claira Carney, Ariana Kirchner, and Blakeley Carney; and nephews, Ariston Kirchner and Maddox Henson. Will is also survived by his mother's family, aunt and uncle, Patti and Perry Edwards; cousins, Afton and Dax Edwards; numerous other aunts, uncles, and cousins; longtime girlfriend, Shelby Powell and her mother, Jennifer Peeler, and grandmother, Sarah "Bubby" Vinson; and his special canine companion, Boomer.
The family would like to give a special thanks to his honorary stepmother, Lynn Carney, and cousins, Nick and Amy.
Funeral services will be held at 3 p.m. on Sunday, October 2, at The Cove Church in Mooresville with Rev. Rick Carney officiating. The family will receive friends following the service at the church. There will be a private family burial at Iredell Memorial Park.
In lieu of flowers, memorials may be made to The Hunter Dalton HD Life Foundation, P.O. Box 2482, Cornelius, NC 28031.
Cavin-Cook Funeral Home & Crematory, Mooresville, is serving the Carney family. Condolences may be made to the family at www.cavin-cook.com.