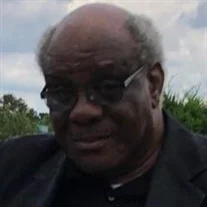 Willie Charles Hill, 75, of Statesville, N.C., died Friday, July 8, 2022.
Butch was born in Georgia and had worked as a warehouse/distribution manager. He was a member of the First Church of the Nazarene. He loved his church and church family. He was in charge of the food ministry at the church for 20 years, helping those in need. He also cooked the meals for birthdays, holidays, and special occasions at the church. He also loved to sing.
Those left to cherish his memory include his daughter, Teressa Dunlap of Virginia; three grandchildren, La'Tia Cross (Darryl), La'Keisha Price, and Brittany Turner, and one great-granddaughter, Ari'Onna Zellner; along with his friends at the church.
A Memorial Service will be held Sunday, July 31, 2022, at 2 p.m. at First Church of the Nazarene with Pastor Frank Turner officiating.
Memorials may be made to First Church of the Nazarene Food Ministry, 506 Medlin Street, Statesville, NC 28677.
Nicholson Funeral Home is honored to serve the Hill family.