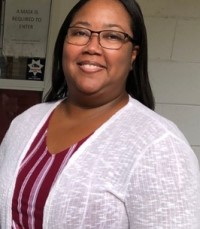 Mrs. Yolanda Rae Ramseur Allison, 44, of 221 North Patterson Street, Statesville, N.C., passed away at Iredell Memorial Hospital in Statesville on Sunday, January 2, 2022. She was born in Iredell County on October 1, 1977, and was the daughter of Myra J. Ramseur and the late Reginald S. Parker.
She was married to Allen Christopher Allison, who survives.
In addition to her father, she was preceded in death by her step-daughter, Shanita M. Allison; paternal grandparents, Roy Austin Parker and Margaret Louise Morrison Parker; maternal grandparents, Ray Alvin Ramseur Sr. and Margaret Nichols Ramseur; an aunt, Wilma P. Campbell; and uncle, Weldon Parker.
She leaves to cherish the memory of her life in addition to her husband, Chris Allison of Statesville, her mother, Myra J. Ramseur of Statesville; one daughter Alexis Kiyanna Allison of Statesville; step-daughter Clorissa (Antionne) Heaggans; three grandchildren, Brianna D. Allison, Decree S. Moss Jr, and Aaliyah M. Moss; and three step-grandchildren; Aniyah, Arianna, and Antionne Jr. of Statesville; two brothers, David Justin Ramseur and Derrick Shamar Ramseur, both of Statesville; aunts and uncles, Ray A.(Patricia) Ramseur Jr., Tonja Ramseur, Larry D. Ramseur Sr., Tara L. Ramseur, all of Statesville, and Erin Z. Ramseur of Elkin, Renee P. Moore and Tim Parker of Statesville; and a special cousin, Bryon Parker of Charlotte; and a host of nieces, nephews, cousins, and other relatives and friends.
Rutledge & Bigham Funeral Home is serving the family.