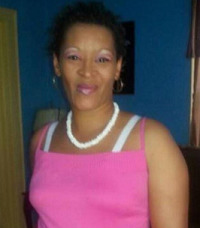 Ms. Africa Nicole Williams, 51, was born in Catawba County on September 7, 1971, to Cecil Maurice Williams and Alice White McKnight. She departed this life on March 9, 2023.
She leaves to cherish the memory of her life two sons, Adward Montriese Williams of Shelby, N.C., and Troyshawn Williams of Statesville, N.C.; two daughters, Troyshay Williams and Alaska Williams, both of Statesville, N.C.; two brothers, Kevin Ussery of Hickory, N.C., and Michael Clark of Newton, N.C.; six sisters, Lesley McCombs and Trenda (Michael) Curry, both of Winston Salem, N.C., Melody Williams of Durham, N.C., Nay Nay Williams of Newton, N.C., Keta Williams of Greensboro, N.C., and Ebony Houck of South Carolina; a special friend, Timothy Williams; eight grandchildren, Adalius Williams, Tae'Shawn Williams, Treyvione Williams, Shontrice Williams, Riley Rankin, Austin Bethea, Ava Bethea and Brennan Rankin; and a host of uncles, aunts, cousins, other relative and friends.
Rutledge and Bigham Funeral Home is serving the Williams family.