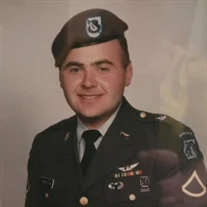 Alan Wayne Templeton, 55, formerly of Mooresville, N.C., passed away on Saturday, September 9, 2023.
He was born on May 7, 1968, to the late Frank and Madeleen Templeton. Mr. Templeton was a retired U.S. Army veteran.
Alan is survived by his wife, Louise Templeton; sisters, Constance "Connie" Templeton Vicent, Velma "Sis" Templeton Willis and husband Gene, and Cynthia Ann Templeton Bryson; mother-in-law, Millidene Landon; brothers-in-law, Cody Edwards and wife Cristin, and Michael Arrowood and wife Tamara; nieces and nephews, Chad Bowles, Jordan Willis, Josh Willis, Trista Bryson, Cami Bryson, Hunter Arrowood, Asher Arrowood, and Ember Arrowood.
A graveside service with full military honors will be held at 1 p.m. on Saturday, September 30, at Glenwood Memorial Park with Rev. Rich Young officiating.
Cavin-Cook Funeral Home, Mooresville, is serving the family.