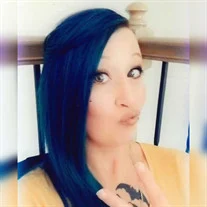 In loving memory of Amanda Bennett Click, 44, of Troutman, N.C., who passed away on Wednesday, November 8, 2023. She was born on August 24, 1979, in Forsyth County, N.C., to Harry and Carylon Bennett.
Amanda was a vibrant soul who left an enduring mark on the world. A devoted mother of four, Amanda embraced life with a passion for art and a heart full of love. Amanda was the rock and anchor of a beautiful, blended family, sharing a love that will endure beyond her physical presence.
Amanda's artistic spirit flowed through every canvas she touched, creating a legacy of creativity and beauty. Her love for animals was boundless, as she found joy and companionship in her furry friends. A true hippy at heart, Amanda radiated peace and harmony, leaving those around her touched by her free-spirited nature.
In the journey of life, Amanda danced to the rhythm of love and lived each day as a celebration. Her memory will continue to resonate through the art she created, the love she shared, and the free-spirited essence she brought to those fortunate enough to know her. She truly changed the lives of many.
May her soul rest in peace. Memory Eternal.
Amanda is survived by her children, Caden Click, Emma Click, Natalie Groff, and Cole Groff; her partner for 13 years, Justin Groff; sisters, Michelle and Vanessa; brother, Gary Bennett; and several nieces and nephews.
A Memorial service will be held at 1 p.m. on Thursday, November 16, in the chapel of Cavin-Cook Funeral Home.
Memorials may be made to American Society for the Prevention of Cruelty to Animals (ASPCA), 424 E. 92nd Street, New York, NY 10128-6804 or your local animal shelter.
Cavin-Cook Funeral Home & Crematory, Mooresville, is serving Amanda's family. Condolences may be made to the family at www.cavin-cook.com.