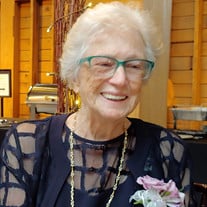 Beatrice "Bo" Lowe Childers, a beloved member of the Mooresville community, passed away peacefully on September 22, 2023, at the age of 88. She was born on December 15, 1934, in Mooresville, N.C., and was the daughter of the late Emery Logan Lowe and Mary Jane Brown Lowe.
Bo was a kind-hearted and compassionate woman, known for her quick wit, sharp mind, gentle nature and unwavering dedication to her loved ones. She was a loving wife, mother, sister, and friend, and she was treasured by all who had the privilege of knowing her.
In her earlier years, Bo attended Central High School in Mooresville and graduated with a high school diploma. She then embarked on a meaningful career as a lab technician in the foam manufacturing industry. Bo dedicated many years of her life to Foamex, where she contributed to the company's success with her diligent work and expertise. After her retirement, she worked as an optical assistant at Mills Eye Care Center.
Outside of her professional life, Bo was a pillar of strength, guidance and support to her family. She cherished spending time with her children, grandchildren, and great-grandchildren, often gathering them together for unforgettable family meals and celebrations. Bo's warm smile and loving presence will be sorely missed by all those who had the privilege of being a part of her life. She never forgot her loved ones' birthdays and remembered them with cards every year. She was an avid reader and a dedicated fan of the Atlanta Braves. She was a faithful member for more than 50 years at Fieldstone Presbyterian Church in Mooresville.
Bo was preceded in death by her siblings, Emily Ruth Lowe Childers, William Charles "Sonny" Lowe and Mary Helen Lowe Collins.
She is survived by her loving husband, Jack Kermit Childers; sons, David Wayne Childers and his wife Sharon and Mark Lowe Childers and his wife Tami; grandchildren, Kristen Childers Dalton and her husband Joe, William Ryan Childers and his wife Angie, Corey Lee "Sarah" Childers, Matthew Craig Childers, Christian Joshua Childers and David Logan Childers; two great-grandchildren and several nieces and nephews, including special nieces and nephews, Mike Childers, Karen Mills and Melanie Hill.
The funeral service to honor Bo's life will be held on Wednesday, September 27, 2023, at 3 p.m. at the Chapel of Cavin-Cook Funeral Home, Mooresville. The family will receive friends prior to the service from 1:30 to 3 p.m. Following the service, she will be laid to rest at Glenwood Memorial Park, Mooresville. Family and friends are invited to join in the celebration of Bo's life and to support one another during this difficult time.
Memorial gifts may be made to Hospice and Palliative Care of Iredell County, 2347 Simonton Road, Statesville, NC 28625 or Fieldstone Presbyterian Church, 804 Fieldstone Road, Mooresville, NC 28115.
Cavin-Cook Funeral Home, Mooresville, is serving the Childers family. Condolences may be made to the family at www.cavin-cook.com.