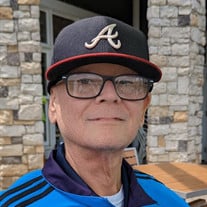 Benjamin Dell Reece, 66, entered this world in Atlanta, Ga., born to Elise and Marvin Reece of Smyrna, Ga. He passed away on Thursday, October 19.
Ben was a veteran of the U.S. Air Force and owned a small auto supply business in the Atlanta Metro area for several years. He moved to Mooresville, N.C., to be closer to family, and shared a home with his sister and brother-in-law for 11 years, working as a security guard at various companies in the area, including Ingersoll Rand and Lowe's Mooresville campus.
Ben was a cherished family member and the "ultimate sports guy." He was an avid fan of football, baseball, basketball, and British soccer, followed many teams and knew more sports statistics than anyone could imagine. He loved his family dearly and loved his loyal companion dog, Allie, for many years until she passed. Where Ben went, Allie went along, too.
He was preceded in death by his parents and his brother, Wayne Reece.
Ben is survived by his sister, Denise Thunberg and husband Bill; brother, Roger Reece and wife Peggy; nephews, Zach Thunberg (Emily), Alex Thunberg (Apryl), and Paul Reece; niece, Catherine Waldbart (Cam); grandnephews, Eli Thunberg, Sam Thunberg, Benjamin Thunberg, Michael Thunberg, and Andrew Thunberg; and his grandniece, Kathryn Thunberg.
There will be a private family memorial gathering at a later date.
Cavin-Cook Funeral Home is proudly serving the Reece family.