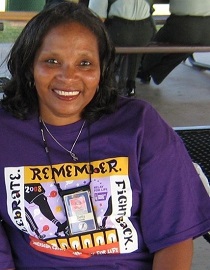 Mrs. Betty Bailey Woods, daughter of the late David Bailey and Rosie Bailey, was born in Iredell County on June 20, 1950. She went home to be with her Lord and Savior on Friday, July 7, 2023, at Gordon Hospice House.
Betty attended Morningside School and was a member of St. Joseph Baptist Church.
In addition to her parents, Mrs. Woods was preceded in death by her husband, James Edward Woods, who passed in 2021; a sister, Doris Bailey; and great grandson, Legend Dalton.
Those left to cherish the memory of Betty's life include her children, Anthony "Amp" Woods (Tina), Shanika Dalton (Eric), Nicholas Woods, and Steven Bailey (Simone), all of Statesville, and Keshia Burton of Washington, D.C., a special niece, Natasha Linster (Octavius); her brother, David Bailey of Charlotte; her sister, Rena Bailey of Charlotte; her sisters-in-law, Barbara Woods, Carol Morrison, Letha Morrison (Bobby) and Brenda Miller, all of Statesville; and her brother-in-law, Arthur Woods (Sandra). Also surviving are her grandchildren, Antonio Woods, Mykia Woods (Logan), Jasmine Dalton, Jamison Woods, Eric Dalton, Zacchaeus Murdock, Jamiyla McGee, Justice Morrison and Keaira Clontz, all of Statesville, and her great grandchildren, Kalaya, Chakiya, Mariah, Kha'Nyla, Khy'len, Emory Kay and Jour'nee, all of Statesville, and numerous nieces and nephews.
A funeral service to celebrate the life of Betty Woods will be held on Tuesday, July 11, 2023, at 12 noon at St. Joseph Baptist Church with Rev. Darrick Clemons officiating. A public viewing will be held one hour prior at 11 a.m.. Burial will follow in the church cemetery.
Troutman Funeral Home is serving the family.