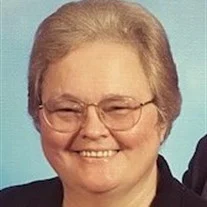 Betty Louise Puckett, 75, of Troutman, N.C., passed away on February 7, 2023. She was born on March 11, 1947 in Iaeger, W.Va., to the late Herman and Garnet Rutherford Roberts.
Betty was a faithful member of Beulah Heights Wesleyan Church in Troutman, N.C. Previously, she served as choir director for Missionary Methodist Church in Mooresville, where she enjoyed singing in a quartet. She loved to listen to gospel music and to eat. Betty worked at Burlington Industry for 26 years. She then went back to college and graduated on the Dean's List. She began another career with the Mooresville Library and retired from there. Betty loved her family immensely and enjoyed all the time she could spend with them. She will be greatly missed by all her family and friends.
In addition to her parents, Betty was preceded in death by great-granddaughter, Chloe; and brothers, Herman Junior Roberts, Dale Roberts, and Bill Roberts.
She is survived by her husband, Edmond Puckett; children, Aaron Roberts (Stephanie Mauriello), Sabrina Stiltner (Jamey), and Jeff Puckett (Lisa); grandchildren, Kami, Caressa, Shawnetta, Micah, R.J., Matthew and David; nine great-grandchildren; siblings, Kathy Lester, and Cleta Ramsey; sister-in-law, Martha Roberts; and numerous nieces and nephews.
Visitation will be held on Thursday, February 9, 2023 from 6 to 8 p.m. at Cavin-Cook Funeral Home and Crematory, Mooresville, N.C. The funeral will be on Friday, February 10, 2023, at 2:30 p.m. at Cavin-Cook Funeral Home and Crematory with the Rev. Trent Patterson and Rev. Randall Macon officiating.
Cavin-Cook Funeral Home & Crematory, Mooresville, is serving the Puckett family. Condolences may be made to the family at www.cavin-cook.com.