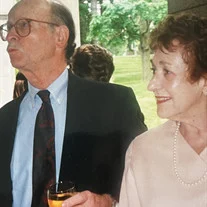 Peacefully and surrounded by her cherished family, Blossom Kreitman of Mooresville, N.C., passed away on September 7, 2023, at the age of 92.
Most knew her as Blossom, and others knew her as Adrienne. To her family and grandchildren she will be forever remembered as Nanny.
Blossom was born in New York City on February 9, 1931, to Julius Raches and Bertha Slopak. A daughter of immigrant parents, Blossom was one of the few women at that time to obtain a Bachelor's Degree from the City College of New York. She was extremely proud of this accomplishment, and instilled the value and importance of education in her children and grandchildren. She reminded them every day to "work hard and study hard."
Blossom met the love of her life, Stanley, while working in retail after college. They were married on Sunday, March 23, 1958, at the Plaza Hotel in midtown Manhattan. They welcomed their first son, Michael Elliot, on December 10, 1960, while living in Dobbs Ferry, N.Y. Years later, after settling in Riverdale, N.Y., Blossom and Stanley welcomed a daughter, Emily Louise, on December 20, 1971. Blossom was a devoted mother who showed unconditional love and support for her children.
Blossom had a flair for fashion and fine foods. It is only fitting that upon returning to work after raising her children she became the Department Manager in the Chocolate Department at Saks Fifth Avenue. A few years after retiring from Saks, Blossom decided to return to the retail industry and became a salesperson in the Lingerie Department at Bergdorf Goodman.
What made Blossom the happiest, and what mattered most to her, was her family. Her proudest moments were becoming a grandmother. Blossom's grandchildren, Dylan Jacob, Jenna Rose and her husband Spencer, Samantha Grace, Aubrey Lynne, and William "Will" Harris, were the light of her life.
There is nothing she wouldn't have done for them. To them, she was their Nanny. She beamed with pride from ear to ear when she spoke of each and every one of them.
Upon retirement, Blossom relocated to North Carolina with her daughter's family. Although forever proud of her New York heritage, she considered herself lucky to have had the opportunity to be an integral part in her grandchildren's lives.
Blossom will be lovingly remembered by her daughter Emily Gilligan and her husband Billy Gilligan, her son Michael Kreitman, and her many grandchildren. She was predeceased by her husband Stanley, and her daughter-in-law Holly Reich Kreitman. Blossom and Holly shared an unbelievable bond. Blossom will be forever remembered for her love of fashion, the amazing desserts she brought to every special occasion, her avid reading of literature, never missing a day of reading The New York Times from cover to cover, and her vast knowledge of politics and current events. But more importantly, Blossom will forever shine in the hearts of her grandchildren, who will dearly miss her smiles, hugs, and special treats.
"If the people we love are stolen from us, the way to have them live on is to never stop loving them."
The family will Sit Shiva at the home of Emily and Bill Gilligan on Friday, September 15, 2023, from 6 to 8 p.m. A celebration of life will be held at a later time.
The family would like to extend their sincere appreciation to the nurses and staff of Hospice Care of Iredell County for the unwavering compassionate and supportive care that was provided.
Memorial donations may be made to the Alzheimer's Association.
Cavin-Cook Funeral Home, Mooresville is proudly serving the Kreitman family.