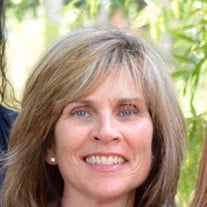 Brette Lee Wilson Zayicek, 63, of Mooresville, N.C., passed away on Sunday, July 30, 2023, at the S. Mitchell Mack Hospice House in Mooresville surrounded by her family.
Born July 22, 1960, in Miami, Fla., she was a daughter of the late Lee A. Wilson and Janet Tryon Frascatore. Brette was raised in Tribes Hill, N.Y. She attended Fonda-Fultonville High School in Fonda, N.Y., and graduated from Junior College of Albany (JCA) in Albany, N.Y., with an associate degree in Medical Transcription. Her hobbies included riding her bike, working in the soup kitchen, attending book club, cooking, photography, lunch dates with friends and traveling. Brette loved the mountains and the beach. She was always smiling and laughing, never complained and loved spending time with her family.
Brette is survived by her husband, Richard A. "Dick" Zayicek, whom she married October 1, 1983; sons, Riley Anthony Zayicek and Sam Anthony Zayicek; siblings, Tracey Lee Wilson, Terra Lynn Nasse (Paul), Kevin John Wilson (Margaret) and Greg Stuart Wilson; mother-in-law, Janice M. Zayicek; step-mother, Loretta Wilson; brothers-in-law, Joseph R. Zayicek (Lisa), and Douglas M. Zayicek; nephews, Jackson Nasse and Ryan Wilson; nieces, Erin Wilson and Andrea Comerford; great nephew, Liam Wilson; great niece, Eloisa Wilson; as well as several aunts, uncles, cousins, many friends and her K-9 companion, Manny.
A Celebration of Life service will be held at 11 a.m. on Friday, August 4, 2023, at the Cavin-Cook Funeral Home Chapel, Mooresville (494 E Plaza Drive Mooresville, NC 28115) with Chaplain Gwendolyn Benjamin officiating. The family requests that guests wear something blue in Brette's memory.
In lieu of flowers, memorials may be made to Christian Healthcare Ministries, 127 Hazelwood Avenue, Barberton, OH 44203, ATTN: Prayer Page.
Cavin-Cook Funeral Home, Mooresville, is serving the Zayicek family. Condolences may be made to the family at www.cavin-cook.com.