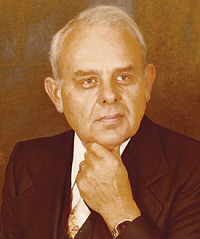 After almost 50 years, my parents are together again. Our dad, Carlin M. Gardner, 96, of Statesville, N.C., entered his heavenly home on Sunday, October 1, 2023. Our dad was born into a Christian home on April 4, 1927, to Primitive Baptist Pastor Elder William L. Garnder and Flora M. Garnder in Hillsville, Va. He and our mom, Betty, were married in 1947. Mom passed in 1974.
After high school, Carlin joined the Merchant Marines, a division of the U.S. Coast Guard on the advice of his brother John, who was in the Battle at Normandy. After completing his military obligation, our dad came to Mooresville to join John in the drugstore business as owner of Goodman Drug. They formed a business operating six drug stores in several surrounding counties. Goodman Drug joined to become Revco in 1968, and Carlin traveled the Southeast as merchandiser opening new stores and continued in management as they transitioned to CVS until his retirement.
Along with his parents, his older brother and business partner, John T. Gardner, and sister, Opal G. Mitchell, preceded him in death.
Mr. Gardner is survived by his two daughters, Linda Walker (Bob) of Troutman and Sandy Harbinson (Bill) of Sunset Beach, N.C.; four grandchildren, Bobby Walker (Toni) and Jon Walker (Angie), both of Statesville, Amanda Matheson (Chad) of Boone, N.C., and Ashley Ensley (Kevin) of Keller, Texas; and nine great grands whom he loved watching grow – Brooke and Braden Walker, Madison Hollenbach, Easton and Janey Walker, Katie and Julie Matheson, Mason and Caleb Ensley. There is one great-great grand, Halston. Also surviving are two nieces, Becky and Michelle.
A graveside service will be conducted at 1 p.m. on Sunday, October 8, 2023, at Glenwood Cemetery in Mooresville. The Reverend Jamie Hamrick of Rocky Mount Methodist Church presiding.
In lieu of flowers the family asks memorial contributions be given to the Gordon Hospice House in Statesville.
Troutman Funeral home is serving the Gardner family.