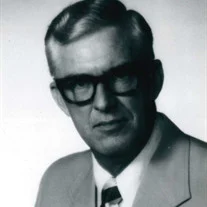 Mr. Charles William Sawyer, 96, of Winston-Salem, N.C., died Monday, May 22, 2023, surrounded by his loving family.
Mr. Sawyer was a devoted husband, father, grandfather, and great-grandfather, and he was a lifelong follower of Jesus Christ.
Mr. Sawyer served in the U.S. Navy aboard the USS Wake Island in WWII, and he later graduated from the University of Kentucky with a degree in Agriculture. In his professional life, he worked his way up to branch manager of the Winston-Salem-based Brown and Williamson Tobacco Company, and he was awarded the honor of Kentucky Colonel. Mr. Sawyer was an excellent golfer, avid fisherman, and University of Kentucky basketball fanatic, and he enjoyed restoring furniture. He loved spending time with his grandchildren and great-grandchildren.
He was preceded in death by his parents, Myra Lou Huff Sawyer Cross and Dave Hartwell Sawyer; his brother, Dave Hartwell Sawyer Jr.; sister, Mary Elizabeth Sawyer; and his wife, Mildred Ruth Cato Sawyer.
He is survived by his one son, Charles William Sawyer Jr. (Selena); one daughter; Helen Sawyer Vasudevan (Mark); five grandchildren, Lara Sawyer Hillard (Kendell), Lisa Sawyer Davidson (Jim), Karen Sawyer Yates (Lane), Mary Kathryn Sawyer Kidd (Kevin), and Charles Vincent Vasudevan, and ten great-grandchildren; Megan Huffman (Brett), Curtis Hillard (Misty), William, Daniel, Mary and Neely Davidson, Graham and Mildred Riley Yates, and Sawyer and Kate Kidd.
Visitation and the funeral service will be at Cavin-Cook Funeral Home in Mooresville, N.C., on Sunday, May 28. Visitation will be from 2 until 3 p.m. followed by the funeral service, starting at 3 p.m.. In lieu of flowers, donations can be made to either St. Jude's Research Hospital. www.stjude.org or Winston Salem Rescue Mission https://wsrescue.org/.
Cavin-Cook Funeral Home and Crematory is serving the Sawyer family. Condolences may be made to the family at www.cavin-cook.com.