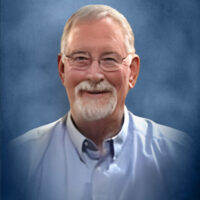 Dan Marshall Williams, 74, of Olin, N.C., passed away Tuesday, September 12, 2023, at the Gordon Hospice House in Statesville, N.C.
He was born in Iredell County on February 27, 1949. He was the son of the late Reece King Williams and Beulah Wall Williams. Dan attended Central School and was a member of the first graduating class at North Iredell High School in 1967. He attended college at N.C. State University and later transferred to Lenoir-Rhyne College, where he played basketball, became a Carolina's Conference All-Star, and graduated in 1972 with a bachelor's degree in Biology. In November of 1970, Dan married his wife, Susan Steinbruegge of Atlanta, Ga. Dan worked on his father's dairy farm until 1976, when he and his two brothers purchased a farm, creating JoAlDa Farm. In 1981, he became president of Iredell County Farm Bureau and served until 1985. Upon the death of their father, Dan and his brothers reallocated properties and he assumed ownership of what became Dan's Dairy. Dan retired from farming in 2000. He and Susan lived in Georgia for five years before making their way back home to Olin to take care of their son.
Along with his parents, Dan was preceded in death by his son, Robb, and brothers, Joe, and Alan Williams.
Those left to cherish Dan's memory include his wife Susan; his daughter, Christy W. (Jeremy) Withgott, his granddaughter, Quinn; his sisters, Rena (Donald) Turner and Ellen (JD) Sprinkle; his sister-in-law, Barbara Williams; and his brothers-in-law, Bob (Kathy) Steinbruegge and Chuck (Urszula) Steinbruegge; along with a special niece, Nancy Keith, and many beloved nieces, nephews, and great nieces and nephews.
A funeral service celebrating the life of Dan Williams will be conducted at 3 p.m. on Sunday, September 17, 2023, at Friendship Methodist Church. Reverend Kristy Burnette will officiate. The family will visit with friends in the church fellowship hall after the service.
Pallbearers will include Rick, Ted, and Todd Williams, Lenny Keith, Ricky Talley and Andy Turner. Honorary pallbearers will be Keith Williams, John Davidson, Alan King, Andy Anderson, John Lentz, and Kent Daniels.
Dan was a good man.
In lieu of flowers, the family asks memorials to be given to the Men's Basketball Program at Lenoir-Rhyne University, 625 7th Ave NE, Hickory, NC 28601 or to Hospice and Palliative Care of Iredell County, 2341 Simonton Road, Statesville, NC 28625. Online condolences may be made to the Williams family at www.troutmanfuneralhome.com.
Troutman Funeral Home is serving the family.