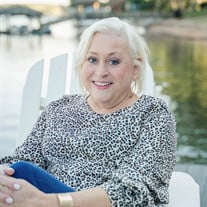 Deborah "Debbie" Hooker Graham peacefully transitioned to her eternal home in heaven on August 8, 2023, at the age of 64. She fought the fight of a lifetime with unmatched courage and determination, leaving behind a legacy of love and strength that will forever inspire those who were fortunate enough to share in her journey.
Born on February 11, 1959, at St. Joseph's Hospital in Asheville, N.C., Debbie was the beloved daughter of William Harold Hooker and Hazel Camby Hooker and the youngest of three siblings. Debbie was preceded in death by her daddy, William Harold Hooker, and by her mother- and father-in-law, Bob and Louise Graham.
She is survived by her husband, Charles Edward Graham; daughters, Kristen "McKenzie" Graham and Carly "McCrea" Graham; mother, Hazel Camby Hooker; brother, Harold Douglas Hooker (Diane) of Fort Mill; S.C.; sister, Donna Burnette (Gary) of Weaverville, N.C., and countless other loved ones that knew her as Dado and Spanky.
Debbie's love story began at the age of 15 when she met her high school sweetheart, Charles. Their love story blossomed into a lifelong partnership filled with love, devotion, and shared dreams. Together, they ventured to Mooresville in 1986, where Charles and his family took the helm at Mooresville Oil and Propane. Their bond was unbreakable, a source of strength that allowed them to weather life's storms with grace, resilience, and dedication to their family.
A true embodiment of motherhood, Debbie was a source of unwavering support and inspiration to her daughters, McKenzie and McCrea. She defined its essence through her selflessness, resilience, and boundless affection, making them feel cherished beyond measure. She took pride in their achievements and relished in their joys. A firm believer in the power of hope, she held onto it with steady determination even in the face of adversity for them until the very end.
Debbie's faith was the cornerstone of her life, and she lived each day as a testament to her love for Jesus Christ. Despite the hardships she faced, Debbie's spirit remained unbroken. Her optimism and boundless strength illuminated even the darkest moments because she was a believer. Never a complainer, she faced life's challenges with a warrior's heart, leaving an undeniable mark on her family and everyone who had the privilege of knowing her.
Debbie was a woman of many roles and talents, having worked as a travel agent, real estate agent, and a corporate officer for Mooresville Oil & Propane until her recent retirement. Outside of work and family, she loved the outdoors. The allure of the beach, the serenity of the lake, and the joy of the pool brought her immense happiness. She had a green thumb, loved bargain shopping (TJ Maxx), yard/estate sales and had an eye for decorating. She was a true embodiment of class and ladylike charm and carried herself with sophistication that was as captivating as it was genuine.
A celebration of Debbie's life will take place on Saturday, August 12, at Trinity Baptist Church. An informal visitation will begin at 11:30 a.m., followed by a ceremony with Dr. Robert Jackson and Rev. Michael Clinkscales starting at 12:30 p.m. In the spirit of remembering Debbie's vibrant life, an open mic session will be held, allowing friends and family to share cherished stories and memories.
Debbie's departure is a profound loss for her husband, daughters, mother, siblings, and countless loved ones. She leaves behind a legacy that encompasses not only her indomitable spirit but also her commitment to giving back. In lieu of flowers, the family kindly requests that donations be made to The American Cancer Society, St. Jude Children's Hospital, Rock Christian Church of Atlanta, and Hatteras Methodist Church.
Debbie's legacy is one of strength, love, faith, and a zest for life. She was a fighter, she was a warrior, and it would not do her justice to say that she lost her battle. She showed resilience and perseverance that everyone should carry with them and showed what strength really is. She will forever be remembered for her incredible journey, her boundless love for her family, and her unshakable commitment to embracing life's challenges with a smile. As she ascends to be with her Heavenly Father, Debbie's spirit will continue to shine brightly, guiding her loved ones with the light of her enduring love and the example she set for all who were blessed to know her.
Cavin-Cook Funeral Home is serving the family.