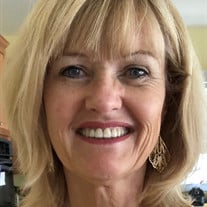 It is with great sadness that the family of Deborah "Debbie" Jayne Mankus announce her passing at home on February 13, 2023, at the age of 57.
Debbie was born May 12, 1965, in Steyning, England, to Clive and Ann Cherry. At age of 10, she moved with her family to the U.S. and found a home in Endwell, N.Y. After graduating from high school and college, she moved to Charlotte, N.C., and worked as a paralegal. In Charlotte, Debbie blossomed when she and John met and married, and a dream was fulfilled when Bradley was born a year later. It was clear she had found her place, her center, and the two loves of her life.
As a devoted mother and loving wife, family was incredibly important to Debbie. She had a way of always being there when you needed her. Debbie's infectious smile and caring personality made her a joy to be around. Her happiness radiated to those around her, gaining her life-long friendships around the world.
Enjoying the "beach life" as often as possible, Debbie loved basking in the sun while reading a good book. She found peace listening to the relaxing sound of waves crash on the shore. As an artist, she created many pieces, but seascapes based on beaches they visited were her favorite. Debbie's talents were many as a painter and musician, although many will remember her flare for baking and decorating birthday and wedding cakes. The cakes were not only creatively decorated but delicious.
She leaves a legacy to be cherished by her survivors, including her husband, John V. Mankus; son, Bradley Mankus; parents, Clive and Ann Cherry; brothers, Mark Cherry and wife Samantha, and Ian Cherry and wife Norma; nephew, Max Cherry and wife Kali; mother-in-law, Grace Mankus; brother-in-law, Jim Mankus; sister-in-law, Mary Mankus; nieces, Lily and Bailey; nephew, Finian. She was preceded in death by father in-law, John R. Mankus, and brother in-law, Bill Mankus.
A Celebration of Life service will be held by the family on Sunday, February 19, 2023, at 5 p.m. at Cavin-Cook Funeral Home, 494 East Plaza Drive, Mooresville, N.C.
The family would like to extend their sincere appreciation to all who offered their unwavering compassion and support during her illness. Your kindness will never be forgotten.
Cavin-Cook Funeral Home and Crematory, Mooresville, is serving the Mankus family. Condolences may be sent to the family at www.cavin-cook.com.