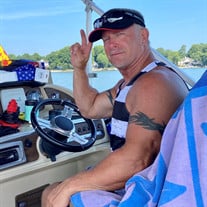 Donald Allan Karbowski, also known as "Karbo" and "Donnie," a resident of Mooresville, N.C., passed away peacefully on Thursday, September 14, 2023, after a long, credulous battle with Covid-19 and the medical complications it had on his body. He was 58 years old. His bravery, and resilience, along with the love and support from his family and friends, gave Don the strength to endure his fight for nearly three years.
Don's energy and tenacity for life was contagious. His ambition and drive for success was fueled by helping others reach their full potential. During his lifetime, he touched numerous people, including friends, family members, co-workers, mentors, mentees, hospital and healthcare staff, and more. Don will be greatly missed by all he has touched in his lifetime.
Born in Omaha, Neb., and raised in Bena/Cass Lake, Minn., Don had a love for the outdoors — lake life, hunting and fishing. He became an accomplished athlete, lettering in track, football, baseball and wrestling, and he was dedicated to maintaining a healthy lifestyle for life. As a decorated veteran of the United States Air Force, he landed in a career with Delta Airlines, which relocated him to the Southeast Region where the majority of his career was spent in Atlanta, Ga., with the exception of his time assigned to New Orleans, Charleston, and Charlotte, as a Lead Aircraft Technician.
He is survived by his parents, Robert and Patricia Karbowski; wife Fiona Karbowski; daughter, Ashley Glenn (Cody Glenn, husband); step daughter, Sierra Key; step son, Tucker Key; brothers, Robert "Bob" Karbowski, Tim Karbowski (Tonia Karbowski, wife), and Edward Karbowski; sisters, Michele Frazer (Gary Frazer, husband), and Laura Riddle (Gregg Riddle, husband); grandchildren, Kaydon Voels, Charleigh Voels, Adam Shonk, and Ava Shonk (Ashley Glenn, mother); and a host of other friends and relatives.
Services to Honor the Life of Don
Celebration of Life
Thursday, September 28, 2023
3 to 6 p.m.
Over Flow 137 Mecklynn Road, Mooresville, NC 28117
(just off the I-77 Langtree Exit)
Funeral Services
Saturday, September 30, 2023
10 a.m.
Full Mass
St. Charles Catholic Church (308 Central Ave, Cass Lake, MN 56633)
Reception to follow in the Fellowship Hall
Farewell toast at 1 p.m. CT for all those near and far
Wherever you are, raise a glass to honor the life of Donald Karbowski
Sunday, October 1st, 2023
Private burial service for family
In lieu of flowers, memorial donations may be given to VPCA at https://give.vpca.vet/give/433169/#!/donation/checkout
Cavin-Cook Funeral Home, Mooresville, is serving the family.