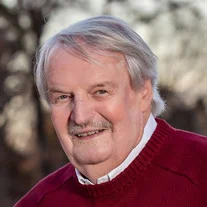 Dr. James J. Welsh was born in Baltimore, Md., to James (Jock) Welsh and Ethel Welsh (McFaul) on March 27, 1941. He died on January 1, 2023.
He attended high school at Loyola Blakefield in Towson, Md., graduating in 1959. His time at Loyola provided him with a passion for knowledge that followed him throughout life. He continued his education at the University of Maryland, first earning his BS of Pharmacy in 1963 and then his Doctor of Medicine in 1968. Shortly after graduation, Dr. Welsh was commissioned in the United States Army and served as a Pediatrician at Brooks Army Medical Center in Texas and Walter Reed National Military Medical Center in Bethesda, Md., where he was the head of Pediatrics. After his discharge from the U.S. Army, Dr. Welsh began and long and distinguished career as a Pediatrician in Montgomery County, Md.
Dr. Welsh was a member of Congressional Country Club in Bethesda, Md., and as an avid tennis player, won several club championships.
The most important facet of Jim's life was his family. He was a devoted father to his daughter Suzie, beloved by his brother, Patrick and wife Lois, and adored by his niece, Lisa Wunder, and his nephews, Patrick, Fran, and Jimmy Welsh.
On June 13, 2009, Jim married Geneale, and began a new chapter in his life. He expanded the space in his heart to accommodate a new family, becoming the loving stepfather to Jonathan, Amber, Melissa, and Brian.
Jim's sharp wit and Irish humor was as limitless as his hospitality. He was as quick to offer a drink as he was to tell a joke or recite a limerick. He would reliably ask "Did you bring my gift?" whenever you met him in a social situation.
Jim had a profound impact on many lives. Some he saved, some he made comfortable in passing, and others he loved.
Jim was predeceased by his parents and his beloved Irish Twin, Patrick.
He is survived by his loving wife Geneale and beloved daughter, Katherine Susanne (Susie) Welsh (husband, Deke Shipp).
Jim also survived by his sister, Mary Ellen Liebig and husband Bob (Robert); sister-in-law, Lois Welsh; and one niece and three nephews, Patrick (wife Amanda) Welsh, Lisa (husband Michael) Wunder, Fran Welsh, and Jimmy (wife Erin) Welsh; grand nieces and nephews, Bridgette, Emily, and Megan Wunder (parents, Lisa and Michael Wunder), Taylor and Patrick Welsh, and Barrett and Eliza Henderson (parents, Patrick and Amanda Welsh), Kate, Anna, Garrett, and Logan Welsh (father, Fran Welsh) and Max and Sammy Welsh (parents, Jimmy and Erin Welsh).
Friends may come and friends may go – And friends may peter out you know. But we'll be friends through thick or thin, peter out or peter in.
Rick 'em, Rack 'em, Ruck 'em – the gift table is in the corner!
We love you Jim.
Visitation for family and friends will be on Friday, January 6, 2023, from 6 to 8 p.m. at Cavin-Cook Funeral Home. A Memorial Mass will be on Saturday, January 7, at 2 p.m. at St. Therese Catholic Church with Father Huver Navarro officiating.
A reception for family and friends will be at 3:15 p.m. at Shoals Grill, 1098 Brawley School Road, Mooresville, N.C.
Donations in lieu of flowers may be sent to the following, which were close to Jim's heart:
♦ Loyola High School 500 Chestnut Ave. Towson, MD 21204, https://www.loyolablakefield.org/make-a-gift
♦ Wounded Warrior Project, P.O. Box 758516, Topeka, KS 66675-8516, https://support.woundedwarriorproject.org/
Cavin-Cook Funeral Home and Crematory, Mooresville, NC, is serving the Welsh family. Condolences may be sent to the family at www.cavin-cook.com.