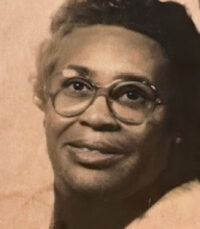 Evangelist Jessie Bell Yancey-Gibson, a woman of unwavering faith and devotion, passed peacefully at her home in Statesville, N.C., at the age of 94. On November 8, 2023, God called her home and she transitioned to her eternal rest, leaving behind a legacy of love and warmth that will forever be cherished.
Born on June 28, 1929, in Louisa County, Va., to the late George and Rosa Yancey, Jessie Bell Gibson was one of thirteen children. She was a beloved wife, esteemed sister, devoted mother, cherished grandmother, proud great-grandmother and great-great-grandmother, beloved aunt, and trusted friend. Her passing leaves a void that can only be filled with the countless memories of a life well lived and a heart full of love.
In the heartwarming tapestry of Jessie Bell Gibson's life, affectionate names were woven with love and laughter. She was fondly called "Charlie" by her late husband, who playfully dubbed her "the boss." To her son Matthew, she was simply Jessie Bell, a name that echoed with the tenderness unique to a son's adoration. Her cherished daughter Darlene bestowed upon her the endearing title of "Mama," a reflection of Jessie's unparalleled warmth and unmatched motherly love. For the extended family and her River Terrace family, she was lovingly known as "Aunt Jessie" and "Mama G," names that encapsulated the nurturing spirit and maternal embrace she generously offered to everyone fortunate enough to be a part of her life.
Jessie was a testament to the enduring power of faith and family. From an early age, she dedicated herself to a life guided by the Lord God, finding solace and strength within the Christian church. She surrendered her heart to Jesus Christ, and this devotion became the cornerstone of her existence.
After completing high school, Jessie left her home in Virginia and embarked on a journey to Washington, D.C. Her sights were set on the capital city, drawn by her sister Ruth, who was also making the move, and her sister Eleanor, who had already established herself there.
In the vibrant streets of the District of Columbia, Jessie's life took a beautiful turn as she crossed paths with the love of her life, Matthew Gibson. On August 10, 1947, they sealed their union in marriage. Together, Jessie and Matthew created a home filled with love and warmth. Rearing four successful children – Mark Gibson Sr., Matthew Gibson Jr. affectionately known as "Junie Moe," Valerie Gibson Smith, affectionately known as "Rose," and Darlene Gibson-Smith-Moore, affectionately known as "Mother," as they became pillars of a tight-knit and family-oriented community known as River Terrace in Northeast Washington, D.C. In the heart of this community, Jessie and Matthew assumed the roles of "Mama G" and "Daddy G," endearing themselves to all who passed through their door. Their home became a haven of love, laughter, and shared moments, leaving an indelible mark on the River Terrance community.
Mama G embraced her roles as a homemaker, cook, and evangelist with grace and purpose. Her greatest joy was raising her children whom she considered her pride and joy. Determined to keep the family close-knit, she ensured that her children grew up surrounded by cousins, aunts, uncles, and grandparents, fostering a bond that would endure for generations. Her love extended beyond her immediate family. Mama G worked for the D.C. Public Schools for 10 years, not just a job, but as a way to watch over her own children and the neighborhood kids. A passionate cook, Mama G found joy in creating delicious dishes, and it was only natural for her to extend that love to the students at the local school. Her famous dinner rolls, a symbol of her culinary expertise, became a source of delight for both her family and the students she served. Her culinary talents were a testament to her nurturing spirit, as she prepared meals at home and for the neighborhood school with an abundance of love.
As their season in Washington, D.C., came to a close, Jessie and Matthew fueled by their unwavering faith and a shared dream, embarked on a new chapter of their journey upon retirement. With fond farewells to their beloved River Terrace family, they set their compass southward to Statesville, N.C. There, they purchased not just a home for their family to gather, but also a church – a haven for those seeking solace and spiritual guidance. In Statesville, Evangelist Gibson and Pastor Gibson dedicated themselves wholeheartedly to their ministry. Their labor was not just physical, but a manifestation of their commitment to God. They generously gave of their time, financial resources, and talents, leaving an indelible mark on the community they served. Through their efforts, souls were won for Jesus Christ, and the impact of their service resonated far beyond the walls of their church.
Evangelist Gibson, purpose-driven and with an unyielding spirit, left Statesville in a better state than she found it. Her legacy is etched in the lives she touched, the community she uplifted, and the purpose she fervently pursued. Her time in Statesville stands as a testament to the transformative power of faith and service, marking her as a true steward of love and goodwill. Evangelist Gibson's life was a living testament to the timeless wisdom found in the sacred Scriptures. Guided by the profound words of Ecclesiastes 3:1-8, she embraced the understanding that every aspect of life unfolds according to its appointed season:
"To everything there is a season, and a time to every purpose under the heaven: A time to be born, and a time to die; a time to plant, and a time to pluck up that which is planted;"
With a heart attuned to the rhythm of life's changing seasons, Evangelist Gibson navigated the ebb and flow of existence with grace and purpose. Her unwavering faith in these verses served as a compass, directing her actions and choices as she moved thorough the various chapters of her remarkable 94 year journey. As she embraced each season, she left an enduring legacy of love, faith, and service, embodying the timeless truths encapsulated in the sacred words that guided her path.
Returning to the Washington, D.C., area and then back to Statesville, N.C., was a heartfelt homecoming for Evangelist Gibson, as she sought to savor endless days and nights surrounded by cherished family and lifelong friends. Her joy knew no bounds during visits with her beloved grands, where she eagerly cradled newborns in open arms and enveloped tall, handsome grandsons and beautiful granddaughters in warm, loving hugs. With a heart full of admiration, she marveled at their brilliance, offering unwavering encouragement for each to be their very best.
The hours she spent catching up with her sisters over the phone were filled with laughter and sweet reminiscences about the past. Her connections with her brothers transcended mere conversation, extending to the shared joy of attending concerts, with a special place in her heart reserved for the Yancey Brothers of Newark, Del., for whom she was one of their most devoted fans. In these moments, Evangelist Gibson's spirit shone brightly, radiating love, laughter, and an enduring appreciation for the bonds that connected her to the ones she held most dear.
Music was a profound expression of Evangelist Gibson's faith, and she found joy in playing the organ and singing praise and worship songs. Her soulful renditions of old spirituals, particularly those of her brothers, The Yancey Brothers, The Angelics, The Harmonizing Four, The Swanee Quartet, The Nightingales, Dorothy Norwood, and others showcased her deep connections to her spiritual roots.
Beyond the sacred hymns, Jessie Belle also enjoyed the rhythmic beats of R&B, particularly those by her favorite artist, James Brown. Her infectious enthusiasm, singing, and swaying along to the soulful tunes added unique and vibrant dimension to her character.
Evangelist Gibson, a matriarch in every sense, held her family together through comforting prayer. Her teachings resonated with timeless values – love, forgiveness, humility, kindness, and the importance of family. In the sacred embrace of eternity, Evangelist Gibson is now remembered along with her loved ones who proceeded her in death, including her devoted husband, Matthew Gibson Sr., her parents, George and Rosa Yancey, ten siblings: Mary Garlic, Eleanor Graves, Harvey Yancey, Earnest Yancey, Frank Yancey, Julia Whitley, George Yancey, David Yancey, Solomon Yancey, and Joseph Yancey. Her son, Mark A. Gibson (Beryl), her daughter Valerie Gibson-Smith, and her grandson, Karl Dewan Smith.
Mama G leaves to cherish her memories and carry forward her enduring legacy her siblings, Ruth Townsend and James Yancey (Janet), her son Matthew Gibson Jr. (Diane) and daughter, Darlene Gibson-Smith-Moore (King). Her grandchildren, Mark (Tony) Gibson Jr. (Kadesya), Andre Smith Sr. (Darleen), Matthew Gibson III, William Gibson, and Justin Gibson, as well as eight great-grandchildren and four great-great grandchildren, a host of nieces, nephews, cousins, and in-laws. In addition, to her immediate family, Mama G leaves behind a beautiful extended family, including seven bonus grandchildren, nineteen bonus great-grandchildren, and one bonus great-great grandchild, and friends, all of whom she loved dearly. Her life was a testament to the enduring power of love and faith.
Evangelist Gibson leaves behind a legacy of warmth, kindness, and an unwavering commitment to God. May her soul rest in eternal peace, and may her memory continue to inspire us to live with the same love and devotion she exemplified throughout her remarkable journey.
Visit the Book of Memories for Mrs. Gibson at www.rutledgeandbigham.com.
Rutledge and Bigham Funeral Home is serving the Gibson family.