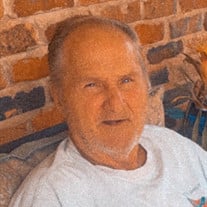 Harold Wilson Threatte, 72, of Statesville, N.C., who was known as "Indian Outlaw," passed away on Monday, January 23, 2023. He was born on November 1, 1950, in Union County, N.C., to the late Harley and Louise Pressley Threatte.
He enjoyed fishing, going to car shows and taking care of his rooster Brock. He loved spending time with his family, especially his grandchildren.
In addition to his parents, he was preceded in death by an infant son, Brian Threatte.
He is survived by his loving wife of 50 years, Sandra Brawley Threatte; daughters, Anita Mitchell (Leon) of Statesville, N.C., Stephanie Workman (Jason) of Taylorsville, N.C.; sister, Kay Twitty; brother, Keith Threatte; grandchildren, Courtney Newsome (Shane), Alaina Medlin (Chase), Zack Mitchell, Nathan Workman (Jodi), Cameron Workman (Sarah), and Tiffany Hubbard; great-grandchildren, Caelyn Newsome "Caecae," Ariel Newsome "Boogie," Brentley Medlin "Peanut," and arriving July 2023 Lawson Wilson-Brooks Medlin "Lawman;" and numerous nieces and nephews.
A graveside service will be held at 3 p.m. Friday, January 27, 2023, at Iredell Memorial Park, Statesville with Rev. Dave Wood officiating.
Cavin-Cook Funeral Home and Crematory, Mooresville, is serving the family.