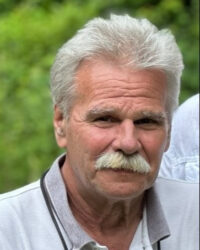 James Michael Windsor, 65, passed away on Sunday, October 16, 2023. He was born on October 24, 1957, in Goldsboro, N.C., to James Gilbert Windsor and Linda Windsor.
James dedicated over 30 years of his life to his craft as an auto body painter .He worked for prestigious organizations such as NASCAR and Heintz Performance, where his talent and passion shone brightly. His attention to detail and commitment to excellence set him apart as a true professional in the field of auto body painting. Under his skillful hands, cars became masterpieces. James was a fun-loving individual who had a zest for life. He cherished every moment and believed in making the most of it. His laughter could light up a room. James's love for life extended to spending quality time with his family and friends. Whether it was a family gathering or simply enjoying the company of loved ones, he treasured these moments dearly. He had a love for the beach and the Caribbean islands. Additionally, James had an undeniable passion for drag racing.
James was preceded in death by his father, James Gilbert Windsor; and daughter, Jennifer Windsor; and brother, Douglas Windsor.
He is survived by his fiancee', Debbie Haynes; mother, Linda Windsor; son, James Windsor; sister, Barbara Case (Terry); beloved dog, Joda; and numerous nieces, nephews and friends.
A funeral service will be held at 2:30 p.m. Wednesday, October 18, 2023, at Nicholson Funeral Home with Pastor David Linedinst officiating. Burial will following at Zion Baptist Church in Union Grove, N.C. The family will receive friends one hour prior to the service. Serving as pallbearers will be Jamie Windsor, Scotty Windsor, Kent Hardwick, Eric Pinkiert, Chris Ellis and Scott Baird.
Nicholson Funeral Home is serving the family.