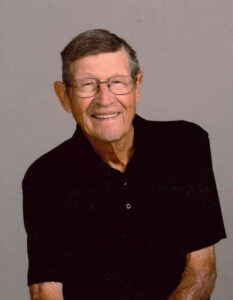 James "Jimmy" Richard Bolick, 87, of Stony Point, N.C., went to be with the Lord on October 14, 2023, at Iredell Memorial Hospital surrounded by his family.
Jimmy was born October 17, 1935, in Catawba County to James Dewey Bolick and Mary Ruth Shook Bolick, who preceded him in death. He was born in the Great Depression era to a hard-working farming family in the Shiloh Community of Statesville. He grew up tending livestock and working in the fields growing cotton and tobacco.
Jimmy worked for Duke Power for 36 years primarily as a Hydro Plant Operator. He spent most of his career at Oxford Dam and retired from Lookout Shoals Dam. He continued working the family farm during his employment and retirement years with his sister Mary Patricia "Pat" and Dan Benfield.
Jimmy married Brenda Baker Moose May 3, 1997, and loved spending time with his family. He enjoyed traveling the lower 48 states with Brenda and watched his grandchildren play numerous soccer and baseball games. He enjoyed watching the Atlanta Braves and UNC basketball in his free time.
He was a member of Beulah Baptist Church for 67 years. He loved his church family and Sunday School Class.
In addition to his parents, he was preceded in death by his sister, Pat Benfield.
Jimmy is survived by his wife, Brenda Bolick; brother-in-law, Dan Benfield; daughters Lisa Bolick, Lori Deal (Mark), Angie Eller (Mark), and Beverly Carter (Mark), grandchildren, Alex Deal, Matthew Deal (Maddalynn), Josh Eller (Jennifer Derewsky), and Lauren Newton (Jamian); great grandchildren, Grace Eller, Mia Newton, and Jordan Newton, nephew Donley Dillard (Jean), niece Shannon Dillard, great nieces Ashton Dillard, Becca Dillard, and Emily Cheshire; and great nephew Andy Cheshire.
Visitation will be Thursday, October 19, 2023, from 1 to 2 p.m. at Beulah Baptist Church. Funeral services will be at 2 p.m. with internment following at Beulah Baptist Church cemetery.
In lieu of flowers, the family asks donations to be made to Beulah Baptist Church, 1851 Old Mountain Road, Statesville, NC 28677 or Gordon Hospice House, 2341 Simonton Road, Statesville, NC 28625.
Troutman Funeral Home is serving the family.