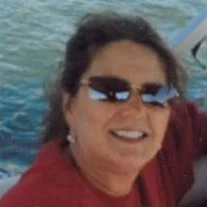 Jane Shoe Beaver, 61, of Mooresville, N.C., passed away at her home on August 5, 2023.
She was born December 9, 1961, to the late Grady and Frances Shoe. Jane's birth came three months after her family moved to Mooresville. Jane was a graduate of Mooresville High School and attended CPCC. Jane lived in Mooresville her entire life and dearly loved her community. Some of Jane's youth was spent with her grandparents on their farm in Rowan County. It was there that her grandmother taught her to pick blackberries, and she rode her pony with her cousins. As a teenager, Jane loved riding the family's two-seater bicycle with her friends around town, playing tennis, and at times enjoying Mrs. Meadows' "good sweet tea." All of Jane's friends and family knew her as a caring person that loved her mom and dad. She was a huge dog lover. Jane's dog, Lilly, will miss the many treats that Jane was always giving her.
In addition to her parents, she is preceded in death by husband, Danny Beaver.
She is survived by brothers, G. Jeffery Shoe (Gail), Randall C. Shoe (Debbie), and Ronald N. Shoe (Melanie); and aunts, Martha Smith and Anne Shoe.
A memorial service will be held on August 17 at 2 p.m. in the Chapel of Cavin-Cook Funeral Home with Rev. Dave Keck officiating.
In lieu of flowers, memorials may be made to the Lake Norman Humane Society, 2106 Charlotte Highway, Mooresville, NC 28117.
Cavin-Cook Funeral Home and Crematory, Mooresville, is serving the Beaver/Shoe family. Condolences may be sent to the family at www.cavin-cook.com.