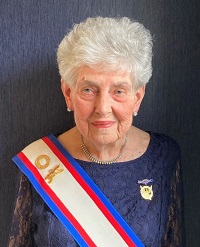 Jeanne Belle Sherrill Boggs, 91, of Statesville, N.C., passed away on Sunday, July 9, 2023, at her home.
Jeanne was born in Forsyth County on August 13, 1931, daughter of the late Ralph Clayton Sherrill and Tobia Holland Sherrill. She was a graduate of Statesville High School and Mary Baldwin College. She was married to the late Robert Lorenzo Boggs, who preceded her in death in 2005. She was a homemaker and a longtime active member of Broad Street United Methodist Church, where she served on numerous committees. Jeanne Belle was active in the Daughters of the American Revolution, Daughters of the American Colonists and the Children of the American Revolution on the local, state and national level. She held many offices, including Sr. State President NC 1972-74, Sr. National VP Southeastern Region 1974-76, Sr. National Corresponding Secretary 1981-82, Sr. National Chaplain 1982-84, Sr. National First Vice President 1984-86, Sr. National President 1986-88, and Sr. Society President Prudence Hall 1990-96. Her chairmanships included Senior National Chairman of Conservation, Special Committee Insignia and Ribbon, Personnel Standing Committee and Magazine Review Standing Committee. At the time of her death, she was the oldest past Honorary Senior National President of the Children of the American Revolution.
She is survived by four children, Robert L. "Rob" Boggs Jr. (Lisa) of Summerfield, N.C., William R. Boggs (Penny) of Troutman, Jennifer Boggs Sullivan (Emmett) of Charlotte, and Suzanne Boggs McLester (Brad) of Charlotte; ten grandchildren, Robert "Trey" L. Boggs III, Ashley B. Dombroski and Kristin B. Joines, Nicholas Sullivan, Casey Sullivan, Witt Sullivan, Murray Sullivan and Madeline Sullivan, William "Will" R. Boggs Jr. and Kyle McLester. Also surviving are seven great grandchildren.
In addition to her parents and husband, Jeanne Belle was preceded in death by one sister, Calveen Sherrill Grant.
Funeral services will be held Thursday, July 13, 2023, at 1 p.m. at Broad Street UMC with Rev. Sonny Reavis and Rev. Jason Harvey officiating. A private family graveside service will be held at Oakwood Cemetery. The family will receive friends following the service in Memorial Hall. Mrs. Boggs will lie in state on Wednesday from 3 to 5 p.m. and also on Thursday morning from 9 to 11 a.m. at Troutman Funeral Home.
Memorials may be made to Broad Street UMC, 315 W Broad Street, Statesville, NC 28677 or to Hospice and Palliative Care of Iredell County, 2347 Simonton Road, Statesville, NC 28625.
Troutman Funeral Home is serving the Boggs family. Online condolences may be made to the family at www.troutmanfuneralhome.com.