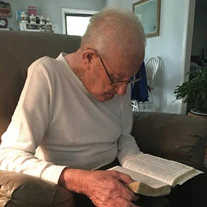 John Dewey Fulbright, 86, of Mooresville, N.C., went to be with his Lord and Savior on Tuesday, August 29, 2023. Dewey was born to Howard and Rozetta Stone Fulbright on November 19, 1936, in Lavonia, Ga.
He was a faithful member of Friendship Baptist Church for 47 years and served as Treasurer, Chair of the Building Committee, Sunday School Superintendent and Grounds Keeper. Dewey served in the Armed Services from 1955-1963 in the 101st Airborne as a Construction Equipment Operator. He retired from Burlington Industries, where he was employed as an Industrial Mechanic, and also from Mooresville Walmart Tire and Lube.
Dewey enjoyed telling stories and making people laugh. He also enjoyed NASCAR, camping, fishing, gardening, the beach, and mountains. He took great pride in hosting fish fries at his home for his church family and neighbors.
Dewey is survived by his three daughters, Johnette Johnson, Kathy Seigle (Tony), and Pam Warner (Jack); and a daughter-in-law- Tammy Dockery. He is also survived by nine grandchildren; Stephanie Jefferson (Stephen), Chris Seigle (Cindy), Amanda Watkins (Shaun), Alex and Michael Price, Bradley and Evan Powell, Jason (Sam) and Amanda Dockery (Will); eleven great grandchildren, Tyler Whitfield, Aaron and Cameron Seigle, Jacob (Deanna), Lilee and Isaac Watkins, Mila Powell, Renee and Calum Dockery, Jaylynn, and Camden Atkins; and two great-great grandchildren, London Seigle and Charlotte Watkins. In addition, he is survived by two brothers, Bobby Fulbright and Dennis Fulbright; and two sisters; Rita Holbrooks and Mary Holbrooks; and his beloved fur friend, Leo.
Dewey was preceded in death by his parents, his spouses, Alton Jane Chastain and Janet Evelyn Malcolm; a son; Ray Dockery; a great grandson; Mason Dockery; a brother; Willie Hugh Fulbright; a sister; Bonnie Ruth Gibson; and two sons-in-law, Charles Welborn and Danny Price.
Funeral services will be held at Sandifer Funeral Home, Westminster, S.C., on Monday, September 4, 2023, at 2 p.m. Dewey will be laid to rest at First Baptist Cemetery in Westminster.
A Memorial Service will be held at Friendship Missionary Baptist Church, Mooresville at a later date.
In lieu of flowers, donations can be made to Friendship Missionary Baptist Church, 177 Cornelius Road, Mooresville, NC 28117 or S. Mitchell Mack Hospice House, 1325 Mecklenburg Hwy., Mooresville, NC 28115.
Sandifer Funeral Home and Cavin-Cook Funeral Home are assisting the family.