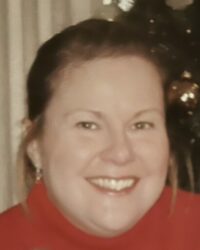 Kristin Ann Tharpe, 54, of Charlotte, N.C., passed away on Tuesday, October 31, 2023, at Atrium Health – Pineville. Born on February 21, 1969, in Mecklenburg County, N.C., she was the daughter of the late John Sykes Tharpe Sr. and LaVeryl Nelson Tharpe.
In addition to her patents, John Sykes Tharpe Sr. and LaVeryl Nelson Tharpe, Kris was preceded in death by her brother, John Sykes Tharpe Jr.
Those left to cherish her memory include her sister, Jessica Tharpe Dyer; her aunt and uncle, O. David and Barbara Tharpe; and her cousins, Dirk Tharpe and Brett Tharpe
Kris was a beautiful woman who loved Christ and was an inspiration in her faith and courage. She was incredibly strong-willed who loved her family, her friends, and her pets. She graduated from East Mecklenburg High school and attended college at UNC-Greensboro. Kris had a gift to make people laugh and feel at ease. She was focused on working with companies that served the greater good of others.
She was a program director at the Harris YMCA of Charlotte; a coordinator at the Men's Shelter of Charlotte and Habitat for Humanity; and a victim advocate/grief counselor at Safe Alliance in Cornelius.
She attended Forest Hills Church in Charlotte and was a passionate Panthers fan. She was and will forever be known as a member of the Bryson family and "Aunt" to Logan Jay and Kailee Bryson. Her kindness and generosity towards others were unmatched. All who loved and knew her will feel the impact of her loss.
To remember this wonderful soul a celebration of life will be held around her birthday in February 2024. Further details will be posted to her Facebook page.
For those who wish, memorial contributions in Kristin's memory may be made to ASPCA at secure.aspca.org.
Nicholson Funeral Home has the honor of serving the family.