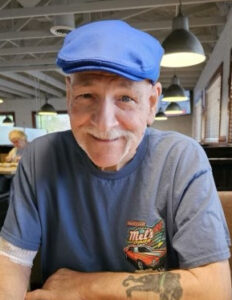 Larry "Swamp" Delano Huggins, 69, of Statesville, N.C., passed away at his home on Wednesday, August 30, 2023.
Mr. Huggins was born in Gaston County, N.C., on September 22, 1953. He was the son of the late Luther and Ethel Vause and his adoptive parents, the late Marvin and Pauline Huggins. In 2004 he married his beloved wife, Sandra "Sandy" Anthony Huggins, who survives. Swamp was known as a man who loved the Lord, first and foremost! He was a member of Calvary Baptist Church, loved hunting and fishing, was a Carolina fan and enjoyed convertible rides. Swamp never met a stranger and was loved by all.
In addition to his parents, Mr. Huggins was preceded in death by his brothers Luther Vause Jr., Arnold Vause, Wayne Vause and Bruce Huggins.
Those left to cherish Swamp's memory include his wife Sandy; his children, Gino Sannioto, Heather Williams and Tommy (Jackie) Barrett; his brothers, Ronnie Vause, Mike Vause, and James (Tina) Vause; and his sister, Shirley Quintanilla; along with his grandchildren and great grandchildren, numerous nieces and nephews; his fur babies, Sugar and Nookie; and his feathered baby, Millie the Amazon Parrot.
The family will visit friends on Saturday, September 2, 2023, from 10:30 to 12 noon at Calvary Baptist Church, 504 Whites Mill Road, Statesville, N.C. A funeral service honoring the life of Larry Huggins will follow at 12 noon. Pastor Chris Haizlip will officiate. Entombment will be at Iredell Memorial Gardens at 1 p.m. on Saturday, September 2, 2023.
In lieu of flowers, those wishing to make memorials are asked to consider the Building Fund at Calvary Baptist Church, 504 Whites Mill Road, Statesville, 28677.
Troutman Funeral Home is serving the family.