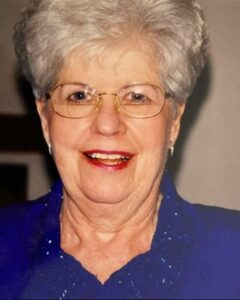 Lois Mae Starrette Poston, 94, of Statesville, N.C., passed away Sunday, October 29, 2023. She is survived by her three children, Salina Ramsay of Lexington, Ky., Bruce Ramsay of Statesville, and William Ramsay (Janet) of Raleigh, N.C. She is also survived by a younger brother, Ray Starrette (Sandi) of Statesville, and sister, Miriam S. Drake (Curtis) of Kinston, N.C., as well as numerous nieces and nephews.
Lois was born in 1929 in Iredell County to Allen Gay and Lula Starrette. She was a lifelong Southern Baptist who enjoyed singing alto in the choir and was very proud of her mini-Cooper car. She was a graduate of Statesville Senior High School and received a typing medal award for typing 126 words per minute on a manual typewriter.
Lois was known for her spirit, her sense of humor, and her tremendous compassion and caring for others. She played the piano by ear, and had perfect vocal pitch. Lois was a beloved member of the family and the Greater Statesville community. Through the years, Lois sang in the Singing Christmas Tree in Charlotte, The Messiah, the choir at Mitchell College, and she participated in several theatrical productions at Mitchell College. Lois enjoyed singing in the choirs of two church congregations, First ARP Church and First Baptist Church in Statesville. Lois was very well loved and will be greatly missed by her family and all those who were blessed to know her. She would want everyone to know she passed away peacefully to go home to Christ.
The family will be honoring Lois in a private memorial service on the family farm.
Nicholson Funeral Home has the honor of serving the family.