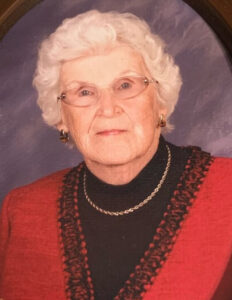 Lucille Johnson Williams, 96, of Statesville, N.C., passed away on September 17, 2023, at her home in Jurney's of Statesville Assisted Living.
Lucille was born on July 14, 1927, in Iredell County, N.C. She was the daughter of the late William Lewis Johnson and Ester Naomi Goforth. In addition to her mother and father, Lucille was preceded in death by her loving husband, Wayne Daniel Williams, and her son, Daniel "Danny" Dale Williams.
Lucille chose a career in the textile industry, where she was a seamstress. She worked with Shadaline and Flexnit for many years until she retired. Lucille was a member of Taylor Springs Baptist Church and enjoyed attending until she was no longer able. She married her husband Wayne Williams in the summer of 1945, in Kershaw County, S.C. In her free time, Lucille enjoyed doing puzzles and helping others. She was the founder of Helping Hands in North Iredell. Of all the things she enjoyed, Lucille loved spending time with her family, grandchildren and great grandchildren the most.
Lucille leaves behind to cherish her memory three daughters, Priscilla Coleman (Paul) of North Wilkesboro, N.C., Patricia "Peache" Rupard of Stony Point, N.C., and Nancy Cass (Adrian) of Union Grove, N.C.; seven grandchildren, Gwen, Janet, Paula, Charmon, Chasta, Randy, and Carita; thirteen great-grandchildren, Houston, Molly, Clay, Ruth Grace, Quinton, Lane, Taylor, Solomon, Isaac, Kelsey, Logan, Corbin, and Caleb; three great-great grandchildren, Knox, Mason, and Lilly; and numerous nieces and nephews.
A visitation and funeral service will be held on Thursday, September 21, at Taylor Springs Baptist Church with visitation beginning at 1 p.m. and the funeral service at 2 p.m. Rev. Carl Ray Williams and Pastor William Weise will officiate the service. Lucille will be laid to rest in Taylor Springs Baptist Church Cemetery.
The staff at Reavis Funeral Home of Statesville is honored to serve the family.