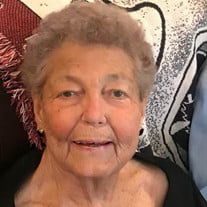 Lynda Marie Goodrum Kennerly, 82, was united with her husband Mick and son Bruce in heaven on Friday, August 4, 2023. She was born in Iredell County to James (Chubby) and Pearl Cockrell Goodrum on April 6, 1941. She was also preceded in death by her parents and her in-laws, Bruce (Lemmie) Kennerly.
Lynda and Mick were married on September 10, 1961, and enjoyed 61 wonderful years, raising their family and loving and supporting one another.
Lynda is survived by her son, James Kennerly; grandson, JD (Jessica) Kennerly; two great grandchildren, Kylie Faith Kennerly and Edward "Reid" Kennerly; daughter-in-law, Jenny Kennerly White; and former daughter-in-law, Julie Kennerly. She was also surrounded by a host of special cousins and friends, including John Cockrell, Barry Griffin, Francis "Earlene" Caldwell, Hazel Smith, Joel Freeze, Teresa and Daniel Moore, Dakota Hunt, and the many members of her Broad Street Church family.
Lynda was an amazing wife, mom, mother-in-law, and grandma who would light up when her littlest grands would come for a visit, and she proudly displayed pictures of her family and shared stories of them to all who would listen.
Lynda was employed for twenty-plus years by the N.C. Department of Motor Vehicles in the license plate division. She also worked for Dr. Robert Gray Sr., DDS, and later Dr. Robert Gray Jr., DDS, for over twenty-three years. Lynda was a long-time member of Broad Street United Methodist Church.
First and foremost, Lynda loved her family. She and Mick loved each other tremendously and together created a loving home for Bruce and James. She had such pride in Bruce, James, and JD, and was over the moon for Kylie and Reid. She also loved her dogs, especially Max and Lucy 1 and Lucy 2. Lynda was an amazing cook and shared her talents with many people, especially if there was a need for some comfort that can only be found in home-cooked meals. Lynda was also well known for her canning skills, and her beets were often a requested item. Two of Lynda's favorite pastimes were gardening and fishing. She loved to work in her yard planting flowers and helping Mick in the garden. She also had a passion for fishing, and enjoyed taking her sons and later JD to the beach and local ponds. Finally, Lynda loved to play Bingo, the Lottery, and the games in Cherokee. She and Mick would set off and go to Cherokee, and more often than not, she would come back with at least a little more money than she left with!
Lynda would like to thank all her family and friends for being there for her, especially since Mick's passing some short six weeks ago. She also asks for God's blessings on everyone.
There will be a Celebration of Lynda's life on Tuesday, August 8, 2023, at 3 p.m. in the Chapel of Cavin-Cook Funeral Home with Eddie Karriker and Barry Griffin officiating. Inurnment will follow the service in Glenwood Memorial Park.
In lieu of flowers, she asks that memorials be made to Broad Street United Methodist Church, 355 South Broad Street, Mooresville, NC 28115, and/or the Lake Norman Humane Society, P.O. Box 3937, 2106 Charlotte Hwy., Mooresville, NC 28117.
Cavin-Cook Funeral Home and Crematory, Mooresville, is serving the Kennerly family. Condolences may be made to the family at www.cavin-cook.com.