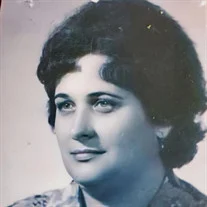 Maria Agnieszka Wodecki, 92, passed away Thursday, January 26, 2023.
Maria was born in Poland on January 17, 1931, to the late Jan Marcol and Albina Marcol. She married Mr. Jan Wodecki in 1952. They were together for 58 years. She worked as a Registered Nurse for over 25 years in Poland; she later worked in medical manufacturing in Oyster Bay, Long Island, N.Y.
She loved to cook and made the best blueberry pierogies, chicken cutlets and duck! She was highly skilled at knitting, crocheting and sewing. She also enjoyed gardening.
Mrs. Wodecki was preceded in death by her parents; her husband; brothers, Ryszard Marcol and Franek Marcol; sister, Boncia "Wladyslawa" Marcol; and grandson, Thomas Wodecki.
She is survived by her sons, Dr. Robert Wodecki (Dr. Debra Wodecki) of Statesville, N.C., and Dr. Tadeusz Wodecki (Grazyna) of Snellville, Ga.; daughter, Tanya Hencinski of Statesville, N.C.; sister, Genia Sztoner of Zory, Poland; granddaughters, Patrycja Mahdavi (Arash), Ashley Tipper, (Adam), Cassie Ruiz (Jon) and Lauralee Wodecki; grandsons, Adrian Wodecki (Nicolette) and Jason Wodecki; great grandson, Ollie Tipper; and great granddaughters, Laura Jane Tipper and Corynne Mahdavi.
A visitation will be held Saturday, February 4, 2023, from 9 to 10 a.m. at Nicholson Funeral Home. A funeral mass will be held Saturday, February 4, 2023, at St. Philip Catholic Church at 11 a.m. with burial to follow at Oakwood Cemetery.
In lieu of flowers, donations to St. Philips the Apostle Catholic Church are greatly appreciated.
Nicholson Funeral Home is serving the family.